Small Business Success - What Every Small Business Needs To Succeed!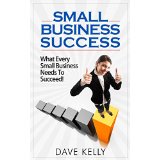 Introduction
Whenever you set out to start a new company or business venture, it is going to be very important that you set it up the right way from the very beginning. A great place to get started is by registering your business and researching all of the different things that you can do to help you comply with a lot of the regulations that will govern your small business in your state. A simple search online will give you a lot of the resources that you need to get the ball rolling in terms of registration of your business and any licenses that you might need along the way.
Of course, you will see that there is a wealth of information out there that you can read through on starting your small business. However, there are few websites and outlets that will give you all of the tips and tricks for true small business success. The list of what you will need to go through is rather long and will include everything from registering the name, deciding if you are going to be running a partnership, sole proprietorship, corporation, and more.
What will it take to get your business license locally? Are there any special licenses that may be needed if you run a small business that provides a service that involves traveling? Is there anything else you need to know about licensing in your area? There can be a whole lot of paperwork involved; however, it is best to remember that this is something that you will have to go through one time when you are setting everything up. If you feel as though you are stuck in any way, you can consider working with a lawyer or an accountant to help you so that you can get everything done and up and running.
While it might seem easy to get all caught up in the dream of finally being your own boss and surpassing some of the top CEOs on the Fortune 500 lists, it is important that you sit back and think about what your life might end up being like as you become an entrepreneur. It can be very easy to gain excitement and momentum about a new product or service that you are planning on taking to the masses, or it could be simply that you are hoping to turn a natural skill or hobby into a great way to make a living. No matter what your reasoning might be, it is a good idea to look at all that it takes to get involved in a start up, well beyond the initial investments and the potential for hiring staff to assist you as you move forward. There could be a lot of bumps in the road as you work on making your small business into one that is successful, so it is great to have all of the information available to you so that you can get yourself prepared for anything that might be coming.
The reality of having your own business is that from the very moment that you start out the odds are stacked against you. However, there are a number of simple things that you can do to help get the odds back in your favor. For example, starting a business will mean taking the time to be sure that there is something unique and enticing about it. Of course, the name of your business might also have a good deal of impact on the number of people that you will see drawn to your products and/or services so it is always good to take a look at all of these simple things as you are putting your small business plan together.
This eBook will go through all of the things that you will need to know or should learn about if you are planning on becoming an entrepreneur and starting your own business. From branding to marketing and much more, you are going to hear a lot of different insider tips on the best ways to get your small business up and running. Once you start to put together some of the best tips that apply to you, it will be easier than ever to get your business to the level that you would like it to be so that you are able to generate a decent living doing something that you truly love.
Should You Be an Entrepreneur?
Believe it or not, you can learn a whole lot about your ability to start your own small business simply by honestly answering a series of questions about your personality and professional expectations. Running a business is certainly a task that is not always going to suit everyone as it can end up being a very stressful way to try and earn a living. On one end of the spectrum you will have complete control over everything having to do with your business, being that there is no boss above you who is telling you what to do on a day to day basis; on the other hand you are more than likely going to need to work longer hours, there is no guarantee that you will be able to make money, and the security of working for someone else disappears, and there are many things that can become obstacles in your way.
Do you have a decent number of friends and/or acquaintances that support your ideas and are interested in hearing about your plans?
For many people, the love and support of family and friends can actually make or break them when it comes to running their own small business. The beginning stages of starting your own business is a difficult time where you will benefit greatly from the support of the people you care about, along with the advice of others as you move forward. Some of the most successful small business owners are those who have been able to bounce ideas and business plans off of the people that they love and care about the most.
How are you when it comes to talking with strangers, either in person or on the phone?
If you are not normally someone who is able to open up and provide a warm and friendly interaction with others, the chances may be that you will have a difficult time with getting into the groove of your own business. Being an entrepreneur will mean lots of telephone calls and one-on-one interactions with not only customers and clientele, but also with potential investors who may be helping you out down the line. Learning how to keep a pleasant and warm demeanor even if you are dealing with a disgruntled customer will go a long way as you move through your path of owning a small business.
Do you usually have the ability to work through tough decisions and do you have the discipline to take action when you know that something has to be done?
Most of the people that end up failing as small business owners are the ones who are not able to make the tough decisions about their business that could make or break them. There needs to be a certain level of daring that comes along with small business ownership, yet you walk a fine line between diving right in and also having the strength to show restraint when it comes to certain investments, whether it is for new equipment, the hiring or firing of staff, or even a major change to your company as you know it. If you seem to have a pretty good handle on your personal life and have the ability to remain disciplined so you can do whatever has to be done, you are more than likely going to be able to translate that same discipline into your business.
Are you a risk taker?
When you stop to think about any type of business that you could be starting, each one of them will have its own amount of risk. Whether it is a business idea that you have that you have been working on for a long time, or it is taking on a dream that you just came up with, there will always be risks involving money, branding, sales, employees, and much more. If you are going to be successful, you have to be okay with taking risks; otherwise you are going to end up missing out on a lot of great opportunities. No matter what, there will be fails that come along with the risk taking as well, it is simply a matter of knowing when to dive in and when you should sit on the sidelines for a little while until something better for your particular situation comes along.
Generally speaking, how are you financially?
It goes without saying that there are a number of ways that a small business can be financed right from the very beginning. However, there will be a lot of expenses that will come about that you may not have thought of or planned for when you get going. It is always a good idea to be financially stable before starting your own business, meaning that having about a year's worth of a salary for yourself set aside is going to be the best way to make sure that you are still able to live comfortably as your business is getting off the ground. For some people, this may take quite a bit of planning, however if you are someone who has a good financial ground to stand on, you will see that it will be easier to devote the time and effort into your business as you will not have to worry about how your bills at home are going to get paid when you have to put money towards equipment or a marketing campaign.
Honing Your Business Idea
In the beginning stages, you are going to see that putting together a concept for your business can come along with its own set of challenges. Even if you have had ideas on what you are looking to do, there needs to be a major focus on the way that your business is going to be set up and then run. Knowing where you want to be and having a clear and concise path for your business will be the best way for you to remain successful every step of the way.
Do you have a decent amount of knowledge as to the type of business that you are thinking about opening and running? The amount of background that you have when it comes to services, products, and the overall market can be an asset as you are building your business. Take a look at some of the businesses that you know very well that are in the same area as your business and see how they are doing from both a marketing and a technical perspective. The more you learn in advance, the easier it will be for you when you are working and developing your own business.
Overall, you are going to find that the skills that you possess are going to give you a more solid platform as you build your business from the ground up. Are you going to be manufacturing a product to hit the market? If so, take the time to learn about all of the steps that go into the production process so that you can get a better understanding about it from start to finish. If there is going to be selling involved, it is always going to help you when you can talk with the consumer about everything having to do with the way that your product was thought up, to how it was made, packaged and more.
What do you have to invest? Depending on the type of business that you are starting up, you may be faced with a minimal investment or something that is going to take a little bit of finesse. A consulting company or graphic design firm are going to take a whole lot less when it comes to start up capital than a business that requires a retail location or even a gift basket service. Maybe you are looking into purchasing a franchise? If so, you will need to look at the amount of capital that you can get your hands on for not only the initial purchase, but also for the running costs that you will be faced with in the beginning before you can generate income.
Passion is always a great way to get up and running; however, you need to look beyond the idea of something that you enjoy doing. The passion will be able to make it so that you can stay the course and start to build upon your business. However, you need to make sure that your hobby or passion will never start to blind you when it comes to the actual business potential that is in front of you. While you could be an excellent baker or writer, you still need to make sure that it will be enough to help you struggle through so that you can make a living.
Will there be selling involved? Taking a look at a retail location, you will have the ability to sit back and wait for people to come to you where you can interact with them and hopefully generate a decent amount of sales. However, if you are planning on being some sort of a consultant or salesperson, it will mean having to put yourself out there so that you can make connections and cold calls that will get you the business that you need to move forward for your future. In a nutshell, there is selling involved in all sorts of businesses, no matter what the field or product you are working with.
Are you entering into a field that is very competitive? Take a look at the type of business that you are hoping to start and see what is around you when it comes to competition. Even if you are the best mechanic in the area, there may be a large number of shops and garages that also employ excellent mechanics. Due to the competition, you will need to find a way to bring the business to your doorstep without having to focus all of your finances on advertising. This could mean picking a different location where there aren't quite as many businesses that are similar to yours so that you will have a better level of domination on the local market.
If there is any sort of a gap in the current market where you are looking to put down your roots? If so, you are more than likely going to see a decent level of sales. For example, are there limited options in the area for people when it comes to shopping for the particular service or product that you are offering? Some of the most successful business owners are able to both pick a product and/or service that is in high demand, and then they are able to put up a foundation in just the right spot where they are going to be able to generate all of the buzz and sales that they need to be successful. Timing can also be a very critical factor when it comes to your small business, meaning that if you do not act fast when you see the opportunity, there could be another entrepreneur right behind you who will.
Market trends are another great way to not only learn about what could make your business successful, but also what it is that the consumers are looking for at any given time. If the business that you are passionate about is on the downturn of a current trend, you may want to wait and hone your business so that you are able to stay on top of the trend. A great example is the shift between video and CD stores to the boom in online streaming, apps and more. Anyone who was able to quickly turn their business so that they could stay in line with the downloadable trend had the ability to keep their business running and generating decent income.
It will always work to your advantage to have more than one concept when it comes to your business as you can try them out to see which one is going to work best for you. There are a lot of successful business owners who have gone to work for a company that they are interested in running, simply to find out what it is like. If you are looking at your options for opening a clothing store, it is going to benefit you greatly by taking the time to work in one as you are putting your business model together. Not only will you be able to experience the business first hand, but you will also be able to take mental notes on what you should and should not do as you are moving forward.
Understanding Current Trends
While there may be businesses that come and go, the way in which they ebb and flow will always remain the same. As a potential small business owner, you may want to look into some of the most current trends in the business world to see if the ideas that you have happen to fit into any of them. Over the decades, there are certain business models that always do well no matter what the economy might be doing and it is a great idea to focus on some of the stronger options.
Elderly Care - It goes without saying that the population is always aging, so there should never be a surprise when you consider the simple fact that this is a field that is growing each year. People are living for a longer period of time and there are more elderly that are healthy and looking to live as independently as possible. The longer people live, the more they want to stay in their own homes, and this is where elder care comes in to help, making this a very valuable field to get involved in.
Warehousing - There are a lot of small and large businesses that will end up needing ways to store their products as they are made so that they can keep up with the demand of their customers. However, buying into their own warehousing or purchasing real estate might not always be the best option for their business financially. When you are able to get into warehousing, you are going to be filling a need of many different businesses either in your local area or even abroad. The more that you learn about helping others cut their budget and offer safe, clean, and ample warehouse space, the more you could see your profits rise.
Health and Wellness - Going along with elderly care, health and well being is always something that will need to be addressed with people of all ages. Not only that, but there are also many different areas of the health world that you could get into, including healthy foods and supplements, workout centers, health coaching, or even an online presence or app that is fitness based. There will always be a strong call for professionals and services in this field, so the more that you can center your business around it the more successful you could be.
Smart Markets or Industries to Consider
If you have not already made your mind up about the type of business that you would like to focus your skills and energy on, there are a lot of businesses out there that will give you a much better chance than the average when it comes to success in today's world. Taking the time to do your research will help you to find some of the most popular and most lucrative businesses out there today. If you happen to find any of the following markets to be interesting, you will find that there could be many different opportunities within each division of the market that you can use to gain a whole lot of success.
Smartphone Applications - There are thousands, if not millions, of people each day who are switching over to a Smartphone or upgrading to the latest and greatest when it comes to Smartphone technology. Along with this, you will see that there are going to be hundreds of thousands of apps downloaded on a regular basis to keep up with all of the latest trends in technology. If you are or have been interested in the development of Smartphone apps, you are going to see that this is a great business to get involved in that is growing leaps and bounds each day.
Common Consumer Staples - When it comes to day-to-day purchases, there are many people who are always in need of food along with other items that are consumable and need to be replaced on a regular basis. If you are able to get involved in the manufacturing of these items or even the selling and buying of them, you will always have a very solid business on your hand that will help you to generate a healthy income.
The Green Movement - Everywhere you look, there are more and more businesses that are focusing their efforts on green living. Consumers are always looking at either buying green houses or making upgrades to their current dwelling that will be better for the environment. Not only do a lot of these save them money in the long run while helping the environment, but also they also often come along with a great tax break. If there is any way that you can bring your business idea into something that is eco-friendly or green related, you are going to see a major boost in your sales and ability to generate great buzz about your business.
Online Shopping - While the Internet is dominated by some of the major players in online selling, there are still plenty of great opportunities to get your foot in the door if you have a product that you are looking to get out to the masses. There are constantly people who are online and surfing the web, looking for gifts to buy for special occasions or simply to outfit their home or wardrobe with new items. If you have a wonderful product or a collection of products that you are looking to sell, there is nothing quite like being able to market all of your goods online for anyone who loves the comfort of shopping from the comfort of their own home or office.
Should You Start From Scratch or Buy?
A smart question that any entrepreneur has to ask themselves is whether or not they should buy a business that is already established or do they have the drive that it takes to start one from the ground up. It goes without saying that there are both pros and cons to each of these situations, and it basically depends on the type of business that you are looking at starting, the level of skill that you have, and of course, the amount of money that you are ready and able to invest into the venture.
For a home-based business, there is a good chance that you will have very little problem when it comes to setting it up and getting it going without having to look for a whole lot of outside help. However, if you are looking at starting your own bakery, you are going to need a good bit of help either getting everything up and running properly, or you will need to see about a franchise where the foundation is already set out for you. For many people, a franchise is a great way to get their foot in the door with their own business without having to go through all of the motions to lay the groundwork for the beginner business.
Franchise Pros
On the plus side, when you are purchasing a franchise, you are getting a brand name that is established, meaning that you are going to have a good deal of credibility right out of the starting gate. People will already have an expectation for high quality and a good deal of confidence in your product that could otherwise take months or even years to build up on your own. As long as you work towards staying on track, you will have a proven business concept that will be able to take you further. This is something that already works and you will be able to generate a good deal of revenue and profit from a well-known franchise.
Whenever you sign on with a franchise, you will more than likely be able to pick and choose all of the equipment that is needed at a preferred price point. With such a business, you will probably also see that the operational systems will be fully up and running, allowing you to get going right from the minute that you open. There are clients already waiting for your services or products and the revenue can come streaming in. If, by chance, you need any sort of a loan or a line of credit, there will be business history that will help you out so that the bank will be able to make a faster decision.
Franchise Cons
Entering into the purchase of a franchise can be a rather costly endeavor, even more so than it would be if you were starting your own business from the ground up. You will have to invest your money to get each potential business opportunity thoroughly checked out before diving in, either by your lawyer or your accountant. When entering into a franchise location that is already established, you have limited knowledge of how much life might be left in any of the equipment that is currently in use. This will mean that not all of the inventory that you take on is going to be good and there could be a lot of items that are slow selling in nature.
While it can be helpful to buy into a franchise that already has a system in place, this might not be a system that you are fully comfortable with using depending on how you like to work, or what you are envisioning for the rest of the time that you are running your business. At the same time, you will also want to take into consideration how much of the previous clientele were showing up consistently because of the previous owners of the franchise. Will these customers still come back over and over for your products and services after you have fully taken over?
When it comes to taking on any employees that came along with the franchise purchase, you will more than likely see that the good comes along with the bad. It is always best to fully interview any of the staff that you will be getting prior to taking over the business or during the time period in which you are buying and then taking over the operation. If some of the employees are not working up to their full potential, you will then have to undergo training them to meet your standards, or you will need to look into new staff to replace them.
Start Up Pros
Whenever you are starting your own business from the ground up, you will find out that it is easier to control any of the start-up costs, with a lot of them being less than if you were to purchase a business that is already in existence. Additionally, going with your business from scratch, you are essentially getting a clean slate to work with. You have the concept as well as the product, services and branding that can all be tailor made and tweaked to your liking so that you can mold the perfect business to suit your needs and passion for the field. You have the ability to find a brand new niche in the market that nobody else has been able to take advantage of and the failure or success will come down to your own efforts and drive.
Start Up Cons
Many small business owners will find it difficult to try and get their business off the ground while trying to utilize as little money as possible. It can take a bit longer to become established, which in turn can lead to even more time and pressure with financing. Upon starting, you will have little credibility, no brand, and not much of a share in the market so you will need to work on creating the vision and there is a lot of room for you to end up getting it all wrong. Knowing and getting into your niche market will prove to be a bit challenging simply because many may have come and gone in the past and since failed.
The moral of the story when it comes to picking out a small business to achieve success with is thinking long and hard about all of your options that you have. Whether you start your own business or you buy one that has already been established, it is always important that you look into all of the pros and cons and that you fully understand them. Getting the advice from a long line of people including accountants, lawyers, account managers at local banks, and even some of the other experts in your chosen industry will help you to gain a vast amount of knowledge that you can use moving forward throughout your decision making process. In addition to that, you will be able to learn a whole lot about your choices simply by doing some decent research online about any business that you are thinking about starting or buying.
How Much Money Do You Need?
There are a lot of entrepreneurs out there today who will end up fully underestimating the amount of money that they will need to start their own business. Because of this, there are a lot of things that you will want to consider as you are planning out your budget for start up costs.
1. Think about all of the filing that will need to be done in terms of paperwork, professional help, legal fees, accountant fees, licenses, partnership agreements, incorporation, and much more.
2. Equipment is another large piece of the puzzle that you will want to factor in as you are putting together your business plan. There are items such as alarms, cash registers, desks, printers, computers, phones, chairs, appliances, and much more that should be taken into consideration for purchase. Along the same lines, there are goods or raw materials that you will need to account for moving forward.
3. No matter what type of business it is that you are hoping to get up and running, you will need to have insurance to cover all of your bases. This will mean everything from life and liability insurance, to the potential for building insurance, worker's insurance, and errors and omissions insurance.
4. If you are going to be using any sort of a business space for your small business, you will need to take into consideration rent, leasing, water, gas, oil, Internet, telephone, and more.
5. For staffing, you will want to take into consideration the payroll that you will need to have in place along with any benefits, taxes, and more.
6. If you are dealing with products versus services, it is going to be best that you look into the costs for warehousing, delivery, courier fees, and even postage for any of your mailings.
7. Marketing is another important area that you will need to take into consideration, especially if you are going to want to get the word out about your small business. This will include everything from advertising and web space to mailing lists and stationary and more.
Of course, no matter what, you are going to find that this list might only make up a portion of what your costs will be depending on the type of business that you are looking to start. Making a list such as this will be a good way to estimate your costs that you will incur even before you start to set it up so that you can even pay yourself. It is unrealistic to think that you or anyone would be able to start their own business and have all of their expenses paid off in the beginning. Cash flow is something that is crucial for the survival of any business, so you need to be sure that you can start your business and then learn the best way to sustain so that you can start to turn a decent profit.
Some of the most expensive start up businesses will often have a call for inventory, commercial space, staff, and a promotional budget. A less expensive start up will more than likely be one that is home based and service focused, owner operated, and might use contract staff on an as-needed basis.
Funding Options
Where you get the money from to help fund your successful small business will usually depend on the actual size of your business as well as the type. A business that is home based will need only a small amount of money, while a larger undertaking will call for a lot more capital to help it get off of the ground. Knowing where to look for the funding for your business can make it a whole lot easier to get everything going in the right direction for you to start seeing some improvement and revenue down the line.
Partner Funding
Going through a partner for funding can either be a good thing or a curse to deal with, especially because having extra hands to help out can make the work load lighter, and it is always good to have someone that you can trust who will be able to help you get your business off of the ground while sharing in the financial burden. However, if you end up only bringing on a partner for the financial support, you could find out that you might end up bumping heads more often than you would like simply because they do not have the same vision or passion that you do. No matter what the circumstances might be, you will be best off getting a lawyer to help you draw up all of the related agreements.
If you are going to have any sort of a partner for funding, you will want to see about having your accountant or lawyer work with you to incorporate your business. If there are any issues that arise down the road, this will make it so that they are a lot easier to resolve. Another smart thing to remember is that you will want to think about if you will want to be sharing profits heading into your future endeavors, or if there will be a silent partner who will simply get paid back over time until you are able to completely pay them off.
Grant Funding
While there are some grants that you might be able to take advantage of to help you fund your small business, you might just find that they are few and far between. You will notice that there are a lot of websites to be found online that will claim to have information on business grants, and there are even books out there that claim to have information on where to get all of the best free money available. For the most part, it is not worth the time and the effort that will have to go into researching these grant options. Some of the grants that are actually available will be only for specific types of businesses or you may need to meet special guidelines to even be up for consideration.
Loan Funding
When you are putting together everything that you need for your small business start up, you might find that it will be difficult to get decent loans from some of the more traditional sources. It is never a good idea to take the time to approach a bank unless you have a good credit rating, along with a professionally written and well thought out business plan. Even if you do have these things in line, you might find that it is going to be hard simply because you may not already have a good relationship built up with the bank that you are contacting.
Of course, as you look around, you will see that there may be loan options available depending on a special need that you have. There are loans for women entrepreneurs, young entrepreneurs as well as a long list of loans that are geared towards helping those who are going green for the environment and their small business reflects just that. Simply take the time to conduct a search to see whether or not there are some different loan options that you might be able to take advantage of as you are moving forward with your potential funding efforts.
Borrowing From Family/Friends
There are a lot of successful small businesses that were able to get their start simply by borrowing start up funds from family or friends who believed in the idea or the person with a passion to succeed. This could either be a loan more like a gift that might come with no strings attached, a partial ownership that will include shares or an understanding that the lending party will get all or a portion of their money back either with or without interest once the business has some level of success. It goes without saying that this form of financial help is based upon blind faith and will involve little or none of the due diligence that there would be if you dealt with a bank or any type of outside investor.
Creative Financing Options
The more that you look into financing options, the more that you are going to find that there are all different ways that you might be able to get some quality funding for the beginning of your project leading into your business start up. Whenever you are able to be creative with your financing, you are going to see that there will be a lot of opportunities that will come your way. Basically, anything that you can do to help build up a little bit of capital will help you tremendously with your efforts. Even if it comes down to selling some of your valuables, this is the type of creative financing that is going to help you get the money that you need to really get the leg up that you are looking for.
Funding Programs
Taking a look around your local area or through some of the search engines online, you are going to find that there are great funding programs that are available for those who are self employed. These are great programs that are geared towards helping people who are eligible to create small businesses that generate jobs for themselves and other people. While it might not help with start up costs, it will help to give financial assistance through the participants being able to use the benefits that come along with the program, including business counseling, paperwork assistance, and much more.
Programs that are available through the government on a local or nationwide basis will change quite frequently, so you may find that it will take a little bit of work to gather all of necessary information to get started with the right program. Looking on the local level is a good way to get started, and then you can start to look at some of the programs that might be available in more of a broader spectrum throughout the nation.
Knowledge Gets You There
Whether you are looking into starting your own business or you are getting the ball rolling already, you will see that you are going to have a much easier time achieving the level of success that you are hoping for if you know what you are doing. Increasing your knowledge base will allow you to build upon your business in ways that you can only imagine.
As you build your knowledge you are going to have a lot more confidence. You will improve communications, encourage closer relationships with other business-minded individuals, and you will become something of an expert instead of a talker. Once you have more of an objective point of view, you will see that you will be able to become the eyes as well as the ears of all of your buyers, and you will have the ability to stay in touch with your customers as well as the marketplace and industry.
Since you are not able to operate while isolated, it is important that you become an integral part of your industry, and that you learn as much as you can about how it operates, what your place is, and where the industry might be headed in the future. This will mean knowing the industry leaders and learning more about all of the latest advances in technology such as what is coming next and what won't work in the future. How are the major players doing in your industry when it comes to the stock market, and are you familiar with some of the tactics that the industry leaders have been able to use to their advantage to get them where they are today?
Know Your Market
No matter how you work on identifying your market, it is important that you learn all that you can in order to be able to know the market intimately. The more knowledge that you have about the market that your business is part of, the more this will help you to become one of the major players. This will mean knowing all about the strengths, as well as the weaknesses, of any of your competition, and also what companies are out there that are buying what you are selling. You will also want to have a good understanding of the wants and the needs of the people and companies that are prospects of yours, as well as the people in your industry that operate on a local level.
It is important when you are running a small business that you stay up on all of the press that is related to your industry and all of the successes that your competition may or may not be having. If you have local chamber of commerce meetings or business mixers, you will find them to be a very valuable tool that will help you to make valuable bonds with other business people in your area as well as potential clients if you provide a service that is geared towards other businesses.
Get to Know Your Customers
Without happy customers who keep coming back, you are not going to have a very successful business. The more that you end up knowing about your customers, the better off you will be so that you can serve them even better into the future. There are a lot of different questions that you can ask yourself to see just how well know all of your customers on a more personal level. For example:
What does your customer tend to think about your company or you as a business owner?
Do your customers have families, or are they single or divorced?
Are there specific needs of your customers in comparison to what it is that you are selling or providing?
Do your customers have a certain type of political preference?
Have there been any issues that your customers have gone through with your competitors over the years?
Do you know your customers well enough to know their birthdays or even their favorite foods or favorite colors?
While it may seem that some of these questions are exhaustive, there are various situations where these questions and more are going to come in very handy. This is meant to give you a bit of insight as to what might be helpful to you moving forward as you try to interact with your customers so that you can make them happy in the future. Most people will buy from those that they not only trust, but those who they like, which is mostly a mutual understanding.
Know Your Customer From a Company Perspective
Learning all about your prospects and their characteristics and personalities will be half of the battle, meaning that it is a good idea to have an equal or even better understanding of all of their businesses as well. For example, what is the management structure or the revenues from the last year? With the competitors of yours, do you know who they are currently buying from and how much might they be paying for similar services and/or products?
Know Your Service or Product
While it might sound strange at first, it is a good idea to know all that you can about what it is that you provide or you sell to your customers. If you are not able to answer some of the most basic questions about your goods or services, then it would be most beneficial to you to learn more about it before taking it and setting out into the marketplace.
What are the needs and/or problems that your products and/or services are able to provide to your customers?
Are there certain strengths that your products and/or services have over those of your competitors?
What are any of the weaknesses of your goods when compared to those of your competitors?
What is it that makes your product or your services unique above all others?
Do You Have a Viable Business Idea?
When it comes to mistakes that could be made as an entrepreneur, one of the biggest is neglecting to do your research as to whether or not you have a market available for whatever it is that you are selling or providing. You might have a strong feeling that the product or service that you have come up with is simply amazing, but you will need to make sure that there are others who feel the same way. There are all sorts of products that you will find that do not seem as though they would have made such an impact, yet they have been able to sell like hotcakes to the masses. This type of research will be able to help you understand what it is that your target audience is looking for as well as the level of success any of your business competition has been able to experience.
The right research on your business idea will have the best impact on your success overall with your small business. There are a lot of businesses that will actually fail simply because there was not enough research that was put into the idea behind them. You need to be completely aware of all of your competition as well as what it is that you are going to sell so that you will be able to restructure your marketing strategy and your business plan accordingly.
Checking Out The Competition - This is a very important part of the process whenever you are going to be starting your very own small business. Many business owners will neglect to do this research simply because they do not want to hear about any bad news or information that will lead them to think that their products or services are going to do worse than they are expecting. There are also business owners who might think that the idea that they have for their new business is more unique than it actually is, simply because they fail to do the research, only to find out down the road that there are others who have similar business plans.
By the same token, if there is no competition for your business at all, it should make you wonder why it is that nobody has a need or a want for your products or services. Searching for potential competitors will be a great way to find out if there are any gaps in the market and whether or not there are good price points that are being charged. Do you have the ability to cut pricing so that you will have the advantage, or is it not worth it in the end to even go further with your business plan at the price that seems to be most competitive.
If you happen to know the area in which you are opening your business, you probably already know about the local competition that you will be faced with. What do you know about the online competition for your business? Today, there are lots of people who are able to sell exactly what it is that you are trying to sell over the Internet instead of having to use a brick and mortar physical location. Because items can be bought and sold anywhere in the world, it is a good idea to see what is also offered similar to yours on a variety of websites.
To find out about the ability to get your same goods online, simply come up with a list of all of the possible search terms or phrases that could be used to identify what it is that you offer. Once you have compiled the list, you will be able to do a search with some of the top search engines to see who is supplying that particular market, both on a local and global level. You basically have to think like some of your customers and what it is that they might be plugging into a search engine as they are looking for goods or services. Once you have the results, you will be able to do a bit of comparison in terms of pricing, choice, and even the service that is provided to all of the customers with the competition.
Analyze Strengths and Weaknesses of Your Competition
Customers will always take the time to search online for a variety of products, and the ones that are going to be the best fit for them in terms of both pricing as well as quality. If you are selling a similar product, you will want to learn all about the strengths and weaknesses of all of your competition to find out where you stand. It is always easy for your customers to research a product, but it will make a difference when it comes to what will actually lead them to spending their hard earned money. In some cases, a turn off might be a website that is difficult to navigate, or there might be another website that offers free or discounted shipping when they purchase a certain amount.
It is always important to learn all about the weaknesses or strengths of your competition so that you can combat them with your own strengths. Once you know their weaknesses you will be able to exploit them and use them to your advantage so that you will be able to hopefully get a little bit of their business from potential customers. This could be something as simple as offering free parking to all of your customers and then advertising it so that all of their customers might see and then go to your location for your goods or services instead.
While you are looking at your competition, take the time to jot down all of the information that you find so it is easier to do a little bit of side by side comparison. Do they advertise heavily, or are there other promotions that they use that are bringing in a lot of the customers that you wish you could have? Maybe they actually have a poor reputation or a lack of quality customer service that you can learn about and take notes on so that you are not going to make the same mistakes as you move forward.
Survey the Field
Some of the most successful small businesses will be those that take the time to survey not only their competitors, but also their potential customers, to find out what it is that they are looking for in a product, service, or both. Whether it is local competition or businesses on a national scale, there is nothing quite like learning about what drives the customer to buy or hire a company. There are companies out there that you can use to generate your own helpful surveys, or you could even see about putting together your own that you can distribute through various social media outlets or even via email to your customers and potential customers.
You may also be able to use the information that can be gathered through surveys so that you can create a long list of things that will be vital to the success of your business, along with the products and/or services that you offer. What is it that people either like or do not like about your products, and what is the amount that they are willing to pay? How many times will they be apt to make a purchase over the course of a year and how much are they buying at one time? Is there a certain time of year where your customers are looking for your products over another season, and if so, are they more apt to purchase in bulk during a peak season?
What Does the Industry Say?
It goes without saying that information is power, so the more that you end up knowing about your business the better you will be able to avoid disasters. The world is fast moving and many of the industries of today will be moving at an equal speed. What is popular today may not be popular tomorrow, so it is important to learn as much as you can about the current market trends and the ways in which your products are going to be able grow or need to be adjusted moving forward.
There are customers who are always going to be attracted to businesses that are experts in their field, so the more knowledge that you have and can share with your customers, the easier time you will have establishing your credibility and people are going to buy from you. With all of the information that is so readily accessible today, there is really no excuse not to be as knowledgeable as possible when it comes to your suppliers, competitors, market, industry, and even how they are doing on a global scale. Some of the top business publications today are filled with all of the information that you need to make it so that you are on top of all of the latest business trends and what it is that potential customers are searching for.
Review Sites
If you have worked to become as knowledgeable as possible on your business and what is going on with your industry, it is now time for you to dig a little bit deeper to see what other people are saying about the local competitors as well as the various leaders in the market. By looking at a lot of the different review sites that are available today, you can now find out firsthand what the customers are saying about you and your business as well as the competition and the experiences that they have had along the way. This will be true of any sort of a review whether it is good, bad, or neutral and the information is known to go viral within minutes, especially if there are other customers who want to voice their opinions on the same matters.
Choose a Great Business Name
How many businesses have you heard of that had a great name that stuck with you for months or even years to come? Naming a business is never something that should be taken lightly as it will end up being your identity for many years to come. You want it to be something that is memorable, and you also need to pick out a name that is going to be well liked and easy to understand. Above all, you will want to make sure that it is something that will be fitting to the products and/or services that you are providing.
Are you able to get a good URL that utilizes the name of your business? When most people do a search online for a product or service, you will see that they are more apt to remember a company by the name of their website. The last thing that you want is to name your business, only to find out that the matching URL is taken, or there are no good varieties available for you to use. Before naming your small business, you will want to do a search of any of the available URLs so that you can be sure that you have one that is a perfect fit for your needs, for customer search purposes, and much more.
Stop and take a look at some of the names of businesses that are in the top rankings in their industry. The chances are that they are both catchy and they coincide with the services and/or products that they offer. The name needs to be something that customers can easily understand, and it should never put people off upon hearing it. Does your name mean something to you and your customers, or is it simply just a name that is straight to the point? Is it a memorable name, or are your potential customers going to be digging deep into their memory to share the name with others, or are they going to be confusing it too easily with that of the competition?
Finally, when it comes to a business name, you will want find out if the name that you are considering supplies enough information to your potential customers in a short phrase or even one or two words. If you offer services that are quick and efficient, you will want to think about putting words like fast, quick, speedy, or lightning in the name. If you offer products that are affordable, think about using words like budget, cheap, affordable, or discount when you are naming your business. However, keep in mind that the name will only be able to get you the initial attention of your customers and you still have to have the great products and/or services to back it all up.
Are You Ready to Get Started
This could be a loaded question for some potential entrepreneurs, as one would almost wonder if anyone is ever completely ready to get their business started. It is going to be a long road ahead, yet if you have all of your research done and you take the time to cover all of your bases, you are going to find that there could be a lot of small victories and potential for incredible revenue down the line. The more that you work at having your own business, the more confident you will feel in your abilities to make your dreams and passions into something that is wonderful and all your own. While it might take you quite a bit of time to get where you need to be in order to see a good profit, there is nothing quite like being able to run your own business and be your own boss.
Keep in mind as you are working towards your goal that you do not have to be a genius or a millionaire to get started in a successful small business. You just have to do the leg work and have the right amount of determination to set you high above all of the competition that might be standing in your way. When all is said and done, you will have a world of experience under your belt and a small business that you can be proud of. The time to get started is now and the future is well worth the time and effort.
&nbsp
---