Renovate Your Bathroom Yourself - A Simple Guide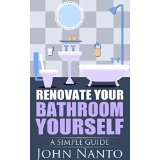 INTRODUCTION
Homeowners all over the world have made the decision to renovate their homes themselves. This is almost considered a rite of passage in their lives. While this is true, many of them do not have what it takes to make the renovation project successful. If you have considered embarking on a DIY journey, it is important that you have all of the right materials to help you along the way. Considering the fact that you are reading this, you are well on your way.
One part of the home that seems pretty easy to renovate is the bathroom. Since this is usually one of the smaller rooms in the home, people believe that renovating one is as simple as 1-2-3. Unfortunately, this is not true in most cases, and people end up with egg on their faces. The reality of the matter is that despite its size, the bathroom is one of the hardest rooms in the home to renovate.
Do not allow the perceived difficulty of this project to frighten you. Even though it may not be a cakewalk, it is very possible for you to roll up your sleeves and turn your bathroom into something you have only dreamed of. At the end of the project you will have a beautiful bathroom and the satisfaction of knowing that the entire thing came together due to your hard work and vision.
There are no definitive rules when it comes to designing a bathroom you will love. The sky is the limit, but you need to prepare yourself for whatever rocky road your mind may take you on. When you are trying to decide on an overall design, keep in mind that you will be creating this on your own. This means that some of the more technical aspects of your dream may not become a reality for you. It is all a part of DIY home improvements, so do not allow yourself to become too down about it.
While there is a strong possibility that you may make a mistake over the course of the project, you should persevere and continue until you have completed what you have set out to do. Errors are a part of renovation projects, so there is no need to throw in the towel. Yes, you may need to seek help if you have made an error that is far too large to be remedied quickly, but in other cases you should be able to regain your footing.
There is a great deal of information that is about to be covered in this text, so make sure that you try to retain as much as possible. The more receptive you are to new information, the better you will be when you are in the midst of your project. If you have already gotten started, STOP. Take a while to read all of this before you continue. There is useful information here that will make your project more successful than you ever dreamed it could be.
Instead of wasting more time worrying about whether you have what it takes to get this done, you should continue reading. There is no doubt that this guide will teach you all that you need to know and more. By the time you have completed this, you will wonder what took you so long to seek out this information. Good luck on your DIY endeavors! Enjoy yourself, have fun and make the most of it.
EDUCATE YOUR SELF
One thing that you can never have too much of is education. There are always new opportunities to learn and you should try to take full advantage of them. Bathroom renovations are no exception to this rule. In fact, the more you educate yourself on the subject before getting started, the more confident you will be over the course of the project. If you are looking for new knowledge, you should try to use some of the following educational sources.
DIY Instruction Books
If you were around in the 1980s, you probably saw commercials for DIY books. It was quite common to see ads that showed people banging a hammer and fixing their homes themselves. Each set of books was divided by room, so there was no need to read each one in order to find the information you needed. While these commercials are no longer aired on television, you can still find this type of book all over the place.
Going to your local bookstore can be your first stop, or you can look for what you need in an online bookstore. Auction sites, local libraries and home improvement based e-commerce sites are all great places to look for the books you need. While you might get confused if you buy every book you see, it would probably be a good idea to buy more than one. This means that you can glean all the information you need from each book and combine it to help you along the way.
Home Improvement Forums
The Internet is the home of the forum, and this applies to every subject under the sun. This is why it should be no surprise to you that there are multiple home improvement forums available. Sometimes book authors forget to add certain situations you may find yourself in, and reading these forums can assist you. People like you go to these sites and share personal experiences and mistakes they have made in the hopes that they can help others who are in the same boat.
Online Instructional Videos
There are many video-sharing sites on the Internet, and many of them have instructional videos available for users. While some of the videos are so short that they cannot provide you with too much help, there are extensive ones that you would probably find quite useful. The best thing about these videos is the fact that they are often free of charge, and you will be able to get a visual of how things are done. Many people find it easier to complete tasks when they have seen them done in detail.
Television Shows
Public access television and home improvement channels on cable are a great source for renovation instruction. Even if you don't find anything that shows you exactly what to do, you may see some great ideas that will inspire you when you are trying to figure out how you want this project to go. If you have cable TV and you don't see anything coming on soon, you should search the On Demand section for what you need.
Home Improvement Store Websites
You may not have considered this, but you should try visiting the websites of well-known home improvement stores. They have extensive information available that can be a big help. From installing new toilets to deciding on shower enclosures, they are a great source that should not be discounted. This section of the website is usually accessible to the public, but you may be required to create an account.
As you can probably tell by now, there are countless resources available that will help you renovate your bathroom to your liking. Whether one of these will be enough, or you need to use all of them, you should definitely study all you can before getting started. There are destined to be mistakes made along the way, but learning as much as you can learn will reduce the chances of these issues being major. Now it is time to talk about how your bathroom renovation can affect the resale value of your home. If there is a chance that you may be looking to sell your home sometime in the future, the next section will give you some helpful advice.
RAISING THE RESALE VALUE
Not every person who buys a home does so with the intention of selling it later on, but this chapter is helpful for those who do. Whether you have outgrown your home and you are looking for another or the kids are gone and it is time to downsize, it is important that your home is as attractive to buyers as possible. There are a few bathroom renovations you can make that will make your home far more attractive to the average buyer, and they are highlighted below.
Make It Larger
This is probably one of the more complicated renovations possible, but it is the one that will create the most added value to the home if you choose to sell. People these days are looking for spacious bathrooms that give them plenty of room to get ready in the morning and/or spend relaxing time soaking in the tub and ignoring life's worries. If it is possible for you to knock down a few walls and expand the bathroom, you may want to consider this. Keep in mind that this is a project for more experienced DIYers.
Renovate Them All
Many people renovate one bathroom and leave the rest of them as they are. This is not a wise idea since inconsistency has the tendency to drive buyers away. If you are working with a limited budget, you should wait until you can afford to do them all over totally, or you should make small changes to each of them as time goes on. Having matching bathrooms throughout your home can dramatically increase the value since people will find the continuity very appealing.
Resist The Urge To Be Unique
This does not mean that you need to stifle all of your creativity and live with a boring bathroom that you absolutely hate, but you should not make changes that most people may find overwhelming and/or unattractive. For example, if you are taken with the idea of making your bathroom look sunny even when it is gloomy outdoors, you should paint the walls yellow. Having pictures of the sun all over the place is not something that will add any additional value to the home. In fact, there is a chance that it can decrease it.
Think Green
These days many people are looking for ways to save energy. By adding energy efficient features to your bathroom, you will add more value. Things like toilets that use less water and soaking tubs are much better investments than showers that have 10 heads. While the latter may look beautiful and lavish, there are some buyers who will see this and immediately think of how high their monthly water bill is going to be.
Quality Means Everything
While there are many options out there for remodeling bathrooms while on a budget, some of which will be detailed later, you NEVER want to use low-quality materials. This is an easy way to take away from the overall value of your home. This is because cheap materials will need to be replaced sooner rather than later. If you use great materials the first time, it may be many, many years before things will need to be changed, if ever. Skimping on quality will not save you money since you will lose money when it is time to sell, and the price is not as high as it could be.
If you have no intentions of selling your home and you plan on living there until the end of days, GREAT. For people who are not sure if this is the final step in their living situation, you may want to pay close attention to the advice mentioned above, It would be a shame to put a great deal of money into a bathroom remodeling project if it makes it harder for you to get a decent deal on your home. The next thing you will need to do is make some solid plans, and the following section will assist you with this.
LAYING DOWN THE GROUNDWORK
You may be itching to get started, but it is important for you to take a moment to make some solid plans. One mistake that people make is trying to figure things out as they go along. This is not a wise idea when it comes to renovating a bathroom. You need to sit down and create a solid plan of action if you want your project to be successful. Here are several things that need to be done before you start doing any work.
Draw Up Some Plans
You may have an idea of how the project should look when it is done, but it is a good idea to get it down on paper. If you are not very artistically inclined, you can ask a friend to help you with this. In the event that you are not able to create a perfect picture of this by hand, there are several websites that can help you with this. These sites can help you add newer features to your current bathroom or design a totally new one.
Set A Realistic Budget
One thing that can ruin a bathroom renovation project before it even gets started is being financially unprepared for the project at hand. Whether you have thousands of dollars to set aside for a project or your budget is far more modest, it is crucial that you are realistic when you are budgeting. Figure out how much everything will cost and make sure to add extra money in the event that things do not turn out as you originally planned. Creating a budget will prevent you from ending up with no more money and an unfinished bathroom.
Look For Inspiration
If you are sure that you want to make changes in your bathroom, but you are not clear about what should be done, it may be necessary to look for some inspiration. There are many home and garden magazines and websites out there that were made with people like you in mind. While you may not find a picture of one bathroom that is perfect for you, there may be elements in several pictures that can be used to create the look you want.
Choosing Materials
This is one the hardest parts of the project since it is pretty much the foundation for everything else. You want the materials and the overall feel of the space to be complementary, so you should choose the materials that you want to use as early as possible. There are benefits and drawbacks to each material, so you must choose carefully. For example, Italian marble is a beautiful material, but it can be quite expensive. You have to weigh the pros and cons of each one before you make your final decision.
Realize Your Limitations
One thing that you need to understand is that it is not necessary for you to complete the entire bathroom alone. If there are some parts of the project that are over your head, it is a good idea to reach out for help. Trying to be stubborn and insisting on doing everything yourself can lead to disaster. The best thing to do would be to assess the situation and decide which tasks you can complete alone and which you cannot. The latter can be taken care of by calling in reinforcements. There will be more about that later.
Preparing well prior to the start of your project will ensure that things turn out well. This is not the time to be spontaneous. Renovating a bathroom is a serious project and you have to attack it with everything you have. If you utilize everything you were just told, it will reduce the chances of there being any problems over the course of the project you are getting ready to work on. Now it is time for you to think about buying supplies.
BUYING YOUR SUPPLIES
Now that you have your plans in order, it is time to go out and get some materials. There are a couple of things that need to be considered when buying materials -- what to buy and where to buy. Both of these points are highlighted below.
What To Buy
There are several things that you should buy if you are doing your bathroom over. Depending on the specific project you are doing, it may be necessary to buy more, but here are a few of the basics:
1. Fixtures -- There is no way that you should consider creating a new bathroom space without changing the fixtures. This is probably one of the least expensive parts of the project, so make sure that you do not forget to do this. It would be a shame to have a fresh, new bathroom and you still have the dull, old fixtures you have always had.
2. Paint -- A fresh coat of paint can work miracles when it comes to bathroom renovations. Making minor changes and adding new paint can make the room look sparkling and new. The next section will get more in-depth about painting.
3. Accessories -- When your bathroom is complete, it is important that you accessorize well. Depending on the project you are doing, these accessories may range from things like soap dishes and toothbrush holders to towel warmers.
As you probably know by now, not every person who takes on a bathroom project has to buy the same things, so there is no definitive way to tell you what to buy. The items above are popular and are needed by many people who renovate their bathrooms, and that is why they were mentioned.
Where To Buy
There are several places you can go if you are looking for supplies for your bathroom renovation. Where you live and how much time you have will determine your options. Here is a glimpse into all of the places that are generally available:
1. Big-Box Stores -- This is where many people go to buy supplies because they are found in many areas. Since they have a huge customer base, they tend to have many available options. The downside to going to this type of store is the fact that some of their items are more expensive than the ones that can be found elsewhere.
2. Mom-And-Pop Stores -- These are a good option for people that are not located near any major cities. Since the larger stores may take some time to get to, it is easier to go to places that are available in the neighborhood. Since these stores are smaller, there may be a limited selection, but if you talk to the storeowner he or she may be able to order what you need.
3. The Internet -- People all over the world who have trouble finding things in their areas can benefit by taking advantage of the wide scope of the Internet. The sky is the limit when it comes to finding what you want and having it shipped directly to your door. It is best to find merchants that offer free shipping because bathroom fixtures can be pretty costly to ship.
4. Specialty Retailers -- You may need to go to several specialty stores to get what you need. Things like heated floor tiles, double vanities and paint can be purchased at specialty stores. Since these are specialty items, going to a store that exclusively sells this type of item will make options available to you that you would not have if you go to a different store.
It may be necessary for you to use each of the store types in order to get everything you want, but the time invested will be well worth it.
Now you have a good idea of some of the basics that will need to be purchased and the stores you can visit to find them. It may take a good amount of time before you are able to secure everything you want and get started on your project, but it will definitely be worth it once you have everything ready. It is always best to secure all you need so there will be no interruptions once you get started. Painting is the next order of business, so prepare yourself.
BATHROOM PAINTING TIPS
One thing that can make your bathroom look new and different is the application of new paint. While painting may seem like it is as simple as dipping a brush in a can of paint and going to town, there is more to it than that. Here are several tips you should keep in mind before you get started.
Buy Bathroom Paint
You probably did not know that this existed, but it is a very useful product. There is plenty of moisture in the bathroom and it can result in mildew growing on some of the walls. In order to prevent this, you can buy paint that is specially formulated to keep moisture at bay. If you are not able to find this kind of paint, you can substitute it with one that has high gloss. Using a flat paint is never recommended since it can hold in moisture.
Wash The Walls First
People paint all of the time without pre-cleaning their walls, but you should not do this in the bathroom. It is very common for soap scum to accumulate and rest on surfaces in the bathroom. You may find it very difficult to paint over places where it has settled. If you are successful with your painting, there is a chance that the scum will create pockets which will allow the paint to peel in spots. Giving your walls a thorough wipe down will prevent any issues with paint adhering as it should.
Use A White Trim
These days people are very creative when it comes to choosing bathroom colors. It is no longer customary to see all white walls. Even so, a white trim is a great way to keep the bathroom looking fresh and clean. If you are using darker colors to paint your bathroom, a white trim will prevent the room from looking far too gloomy.
Use Outdoor Paint Around The Windows
If you have windows in your bathroom, there is a chance that they may be open at a time when it is raining or snowing and the paint will be affected. Using a paint that is made for the exterior of the home will protect these areas. The only time you will not need to worry about this is if your window is positioned so high that it is not likely anyone will open it.
Always Use A Tarp And Painter's Tape
This may sounds like a tip that anyone should figure out on their own, but it is never wrong to be extra careful. There are many people who swear they will be able to take care of the painting carefully and nothing will be damaged in the process. The fact is that humans make errors and it is wise to be prepared for that. In the event that paint falls somewhere unexpected, having a tarp will protect that area. Painter's tape is used to cover all of the places on the wall that you do not want to paint.
Give The Paint Ample Time To Dry
There is nothing worse than painting a wall and ruining it because you tried to place items on it too quickly. Fixtures and/or paintings should not be placed on the wall until you are sure that it is dry. There are several paint manufacturers that create fast-drying paint that is said to be dry within a few hours. You should ignore this and give it at least 24 hours in order to be on the safe side.
Painting is an important part of renovating the bathroom. Now that you have all of the information you need to do a great job painting, it is time for you to take some time and figure out what items you should splurge on and which you should not.
TO SPLURGE OR NOT TO SPLURGE
There are several items that some people splurge on when they are renovating their bathrooms. There is nothing wrong with that, but it is a good idea to spend extra money only on things that are worth it. Here are a few items that you may have considered for your bathroom. You will find out whether it would be best to splurge on them, or to put your money back in your pocket.
Designer Tiles
When you are entering a bathroom and there are designer tiles in place, they are sure to catch your eye. This is one of the reasons that you may want to splurge on them. While they may cost more than plain tiles, the look you will get is a lot more appealing to the eye. If you cannot afford to buy designer tile for the entire bathroom, you may want to consider buying plain tiles and designer ones and using the latter to accent the former.
Flooring
It is really not necessary to spend a bundle on expensive flooring. While this can be nice looking, it is not really a crucial element of a nice bathroom. One thing you might want to splurge on is a heated floor mat that can be placed under tiles. It is also possible to buy special heated tiles, but they are a bit more costly. Either way, knowing that you can step on the floor after a shower without freezing off your toes should be reason enough to make this purchase.
Cabinets And Drawers
This is an area where you must splurge. There is nothing worse than buying low-quality cabinets then sitting back and watching them fall apart. Since you may have to open cabinets and drawers multiple times a day, they will become worn right away if they are cheaply made. While it is not really necessary for you to buy the most expensive ones in the store, you should definitely invest a decent amount. Always remember that being far too cheap means that you will have to spend more money on replacements before you know it.
Countertops
If you are trying to be economical and you have every intention of living in your home forever, there is nothing wrong with buying laminate countertops. This is not the case if you know there is a chance you may want to sell in the future. While materials like quartz and granite are very expensive, this is an area where it might be in your best interest to splurge.
Video And Audio Systems
Many people have decided that installing expensive audio and video systems in the bathroom is a good decision. This is one area where it would be best not to invest the money. How much time do you really plan on spending in the bathroom? The average person is in there for 20-30 minutes. You can surely wait until you are done in there to watch a movie or listen to the music of your choice. Buying a waterproof radio and carrying it in there with you would probably make more sense.
Fixtures
This is an area where it will pay for you to splurge. You can find some good quality fixtures at a reasonable price, so you may not have to splurge as much as you think. While you might think that buying the cheapest fixtures you can find is a good idea, all it will do is make your bathroom look terrible, regardless of all of the hard work you have put into fixing it up.
Sometimes it is a good idea to throw caution to the wind and spend a little extra money, but other times your money should stay deep inside your pockets. After reading this, you should have a good idea of whether to splurge on certain parts of your bathroom. If you are interested in saving money above all else, the next section is for you.
TIPS FOR THE BUDGET-MINDED
The reality is that you may want to renovate your bathroom, yet you do not have a great deal of money to spare. This does not mean that you have to totally give up on the idea of giving your bathroom a new look. You just have to be a bit more creative when it comes to achieving the look you want without spending more than you can afford. Here are a few tips that will help you save money while remodeling your bathroom.
Limit Your Use Of Tiles
Doing this may change the vision you had of your bathroom, but it can help you save a ton of money. The fact is that the more tile you use, the more you will have to invest. While you don't have to nix the idea of using tile, you need to be more strategic with it. Use it in necessary areas and look for other ways to highlight the rest of the room.
Buy Unpopular Granite
If you are interested in installing granite in your bathroom, you should look for some that is in a color that is not very popular. Black, gray, tan and most neutral colors are rather popular, which means that these hues cost more. Buying something unique means that you will be able to save a couple of dollars. You should also consider buying flawed granite since it is much cheaper. You will just have to find some way to be creative and make sure that the flaw does not stick out so much.
Refinish Your Shower Or Tub
Buying an entirely new tub or shower can be quite expensive. Instead of pouring lots of money into this type of purchase, you can refinish them. This will make the room look like everything in it is new, when the reality is that old items were given a boost. While this is a wise choice, you don't want to refinish the fixtures. Never refinish the fixtures, since it would be cheaper for you to buy new ones.
Buy Used Supplies
When most people think about buying bathroom supplies, they imagine buying things straight out off of the showroom floor. It is quite possible to get the same items far cheaper if you consider getting them used. Bulletin board sites and auction sites are filled with things that people no longer need and are willing to part with for reasonable prices. As long as they are in good condition, there is no reason to discount the worth of used goods.
Do All Of Your Plumbing Over
Yes, this is something that can be quite pricey, but it will save you money in the end. If you redo your entire bathroom and leave the plumbing in bad shape, you may need to damage the new bathroom if something goes wrong and the plumbing needs to be fixed. Instead of waiting until that happens and you are forced to pay tons to get everything back in order, be proactive and spend the money now.
Invest In A Vanity That Has Storage
This is a great idea because it will eliminate the need for several other items that you may be thinking of installing in the bathroom. Many people install shower shelves, racks and hooks to store items, but you can save money on all of that and use the vanity to store everything. This will also give your bathroom a cleaner look, which is an added bonus.
Using any or all of the tips mentioned here will help you save a good amount of money when you are renovating your bathrooms. Sometimes you have to spend more now in order to save later, but it all evens out. Now it is time to talk about some of the people you may need to call in to help you if you are in over your head. While you are trying to do it yourself, sometimes that is just not possible.
CALLING IN REINFORCEMENTS
Unfortunately, there are times in the life of a DIYer when it would be a good idea to call someone for help. If you are not able to swallow your pride and get assistance, there is a chance that you can make the issue worse than it already is. Here are a few times when you may get in over your head and the person you should call to help you.
Plumbing
There are many plumbing tasks you can probably complete on your own, but if it is necessary to install entirely new plumbing, it may be in your best interest to call in a professional. Since they know what they are doing, it will eliminate the chances of water making its way to every place in the bathroom. While you can try doing it on your own, you should call someone right away if you notice that things are worse rather than better.
Electrical Work
Installing lighting fixtures is usually a piece of cake for a layman, but complicated electrical work should be left to the pros. Not only can making a mistake with electrical systems damage your home, but also it can be rather dangerous. If you have no idea what you are doing, you should not attempt it at all. The only time it would be okay for you to try doing electrical work yourself is if you already have experience with it.
Shower Contractor
If the changes you want to make involve installing a new showerhead or putting in some new tiles, that may be something that you can handle on your own. You should think about calling in a professional if you want a shower enclosure that is high-end and far more difficult than you are prepared for. You don't want to try this type of project on your own unless you have enough money to clean up the mess that you are probably about to make.
Your Friends
You may never think of your friends as a valuable resource, but it may be time to give that a second thought. When you have a large group of friends, there is always a chance that each of yours has his or her set of things that they are skilled at. If you have friends that are in the contracting business or have great skills when it comes to doing home improvement projects, you may want to give them a call if you get stuck.
Someone To Refinish Everything
There are DIY refinishing kits available at hardware stores all across the country, but not all of them are as easy as they seem. If you get one of those kits home and you are unsure of how to interpret the instructions, you may want to get some help with this. Whether this means calling a general contractor or getting the help of one of your buddies, you should definitely let someone else take care of this.
A Designer
Some people are pretty good at doing projects, but the planning phase is the part they seem to have the most issues with. If you are not sure of what direction you want your bathroom renovation to go in, you may need to get some help with that. Even if someone else helps you with the design, you can always do the work on your own. Sometimes it takes the help of others to make your vision a reality.
There is nothing like trying to complete a job on your own and then feeling like you have hit a brick wall. Instead of giving up and walking away with the feeling of defeat on your back, you should call in some reinforcements. Yes, you may have dreamed of completing the entire project all on your own, but sometimes people bite off a lot more than they can chew and they need a hand. Next are some pointers for those who want to do the plumbing work on their own.
DIY Plumbing Tips
Life is all about learning, which is why some people are reluctant to call others for help when they are completing a project. While this is true, you should be especially careful when plumbing is involved. Making mistakes can prove to be quite costly, which is why you should follow all of the advice here.
Turn Off The Water
Before you start doing anything that has to do with plumbing, it is important that you turn off the water. If you leave it on, there is a chance that you and your bathroom may end up soaking wet. Even if you feel like the part of the pipes you are working on has no chance of breaking, it is better to be safe than sorry. This is especially true if you have carpet or wood flooring that can be badly damaged if it comes in contact with too much water.
Watch An Online Introduction Video
There are many tools and basic ideas you will need if you plan on working on the plumbing in your home. Instead of trying to make things work with your false confidence, you can look for tutorials that will give you a good idea of where to start. Many people act too proud to sit back and listen to beginner's videos, but wise people know that the best work is done when you have familiarized yourself with even the smallest details.
Clean Your Showerhead
Many people make the mistake of replacing a perfectly good showerhead because it has not been maintained properly. If you notice that it has not been spraying water like it used to, you can try unclogging the holes in the head with a small piece of wire. Do not be alarmed and assume that this is caused by mold or some other sinister source. It is usually the result of mineral deposits from the water building up and causing a blockage.
Toilets Should Be Paper Only
If you are installing a new toilet, you do not want anyone to ruin it by clogging it with materials that are too dense. Let everyone know that you don't want anything flushed down the toilet except for toilet paper. The best way to make this convenient for everyone would be to put a Diaper Genie in there for dense waste. These are devices that act as wastebaskets, yet they will keep out smells caused by anything you put in there.
Create A Space For Your Toilet
It is now very common for toilets to be set apart from the rest of the bathroom. Keep this in mind when you are doing your renovations. You can build a small room that can enclose the toilet, or you can build a partition. The room is a better idea if you have to share the bathroom with others and you want to use the toilet in privacy. A partition will not provide as much privacy, but it is very easy to install and it does not cost as much.
Repair Or Replacement
It is your job to figure out if there are items in your bathroom that are worth repairing or if it would be more economical to replace them. For example, replacing the items inside the tank may resolve a problem with a toilet that is not acting right. On the other hand, if you notice large cracks, it would be a good idea for you to go ahead and replace the entire unit.
Now that you have all of these plumbing tips under your belt, you should feel more prepared than ever. While some jobs may be way over your head, there are plenty of basic plumbing jobs that are perfect for a DIYer. Next you are going to learn more about lighting options.
EXPLORING LIGHTING OPTIONS
There is nothing more important in a bathroom than ample lighting. While this is true, the number of lighting options available can make the average person overwhelmed. If you are wondering about all of the choices that are available to you, it may be best to continue reading.
Fluorescent Lights
Many people favor these because they are fairly economical and they are very easy to install. With that being said, others do not like them because the light they give off is too stark and gives the room a sterile look. These are best for bathrooms that do not have a window since such rooms are generally darker, but they may prove to be too bright for rooms that have one or more windows.
Vanity Lighting
What good is looking into a vanity to admire your reflection if you can barely even see yourself? There are all types of vanity lighting options available and you may want to consider them. Once you have invested the time and money to install a new vanity, it only makes sense to add lights to accentuate it. Be very careful when choosing vanity lighting because you do not want the ones you choose to clash with your overall style.
Under Cabinet Lighting
If you have cabinets in the bathroom and it is fairly dark in there, you may want to install some lights. This is a pretty quick fix, but it can make a world of difference. Sometimes when you buy vanities that have cabinets, there are lights already in there, but if there aren't you may want to install some. If you are not technically inclined to do this or you do not have the money for this, you may want to consider tap lights for the moment.
Chandeliers
Most people think of chandeliers as something that is used to accentuate the living room area, foyer or formal dining room. While these are all great places for them, you may want to think about putting one in your bathroom. There are so many types available, so don't believe that you are required to use one of the more formal ones.
Pendant Lighting
This is a great lighting option for people who are looking for ways to make the room more attractive. You can place one or more of these in the bathroom and they will give the room and entirely different look. Make sure that the ones you select are not too large and overbearing. The subtler you are about it, the more likely the fixtures are to fit in with the look you are going for.
Lamps
Whether you believe it or not, some people think of this as a viable way to provide light in the bathroom. While it is not the most traditional choice, this does not mean you should not consider it at all. If you are creating a space in the bathroom with a table, this could be the perfect place for a lamp. Try to buy something very durable since it would be awkward and hazardous for it to shatter all over the floor.
Wall Sconces
This is a great option for people who are looking to give their bathrooms a softer look. They come in a variety of different shapes and sizes, so you are sure to find some that you will be happy with. The key is to find those that can complement the bathroom. These are also great for people who are on a budget since they are not usually overly expensive.
These are the most popular lighting options available. It is your job to figure out which one of these would complement the room while being easy enough for you to install on your own. The thing you want to avoid is having a bathroom that is far too light or far too dark. Either one of those would not be very nice looking, so make sure that you try your best to avoid this. Now let's talk about ventilation.
THE IMPORTANCE OF GOOD VENTILATION
One thing that you cannot forget on your quest to create the perfect bathroom would be ventilation. This is absolutely necessary if you want to keep the room pleasant. Here are a few ventilation tips you should consider while working on this project.
Ventilation While Painting
This isn't technically a tip about bathroom ventilation, but it is important nonetheless. When you are painting your bathroom, make sure that you have enough ventilation in the room. If there is no air vent or window, you should consider using a high-powered fan to blow the air around. You should also make sure to keep the door open so you are not cocooned in a room filled with fumes that can harm you.
Adding A Vent Fan
If you are in a room that does not have any windows, you may want to consider installing a vent fan. There is some electrical work involved, so it is a good idea to only attempt this if you know what you are doing. In some areas, it is required that you have some way to ventilate the bathroom, so installing one would put you ahead of the pack. This may be a job where you will need to call for help, but not necessarily.
Install A Window
You might think it is crazy to think that you can install a window on your own, but it is not impossible. There are many people that prefer fresh air to that you feel coming through a vent. This is more expensive than installing a fan, but it is a very attractive option. This is because it will brighten the room up with some natural light.
Put In A Skylight
This is a job for a more experienced amateur. You should not attempt this unless you know what you are doing. Trying to take on a project of this magnitude can have a terrible outcome if you try to do it without possessing all of the skills necessary to be successful. Again, this is probably one of those bathroom renovations that you should leave to the pros if you are not very familiar with it.
Install A Fan With A Timer
You were told a minute ago that installing a vent fan was a good idea. It is even better if you install one that has a timer. If you schedule your shower time each day, it can come on even if you have forgotten to flip the switch. It is great to run a fan while in the shower since it will reduce the amount of moisture that stays in the air. If you are planning on installing a vent fan, make sure that you select this type.
Install Shorter Shower Enclosures
You may have seen the shower enclosures in the market that go all the way to the ceiling from the floor. While these may look quite attractive, they are not a good idea unless you plan on installing a steam shower. Having a shorter enclosure means that all of the excess moisture will not get trapped into one area and create damage and/or raise the risk of mold.
Add A Transom To Your Steam Shower
This is something you must consider if you are thinking about putting in a steam shower. In case you did not know it, installing a steam shower has a huge downside; they are a hotbed for all types of mildew and mold. By installing a transom, you will keep the cold air from coming in while allowing some of the steam to waft out.
You are almost there and you can probably start your bathroom renovation shortly. Now that you know everything there is to know about ventilation, it is time to learn about common mistakes you should avoid while you are remodeling your bathroom.
MISTAKES TO AVOID
You are human and there is always a chance that you can make an error while completing a project. Sometimes errors happen because you are not sure about what should be avoided. As long as you don't do any of the things listed here, you should do just fine.
Installing Carpet
This may seem like a great way to make your bathroom look nice and cozy, but you should definitely seek other ways to do that. When you have carpet in your bathroom, it tends to soak up all of the moisture it is exposed to. This means that mold can make its way into the fabric and cause problems. It is best to look for a solid floor type for the bathroom and leave the carpet for the rest of the house.
Failing To Upgrade Fixtures
There is nothing like trying to make your space look good and only doing a half-good job about it. Even if you are only installing new lighting and a toilet, you should still consider putting in new fixtures. This can change the look of your bathroom so much that you may not need all of the improvements you were planning on.
Ignoring Small Errors
Sometimes when you are working on a project you do not want to stop every time a small mistake is made. You tell yourself that you will get to it later or no one will notice if you leave things the way they are. Keep in mind that you noticed the problem, which means that someone else might as well. Why spend money to make a room look nice if you are not going to work on making it look as good as possible? As soon as you see a problem, it is best to fix it right away.
Getting Lazy At The End
There are many times where people work so diligently on a project that they are far too excited when they see the end is near. Instead of slacking off once you are closer to the goal, you should work just as hard as you have the entire time. By letting things fall to the wayside at the end, you may end up making mistakes that can ruin the overall look you were going for. If you notice that your focus is totally gone, take a day or two to regroup and try again later.
Ignoring Spacing
The measuring tape needs to be your best friend when you are doing renovation projects. Have you ever stepped in someone's bathroom and flinched when the door hit the toilet? This is the type of problem that you should be trying your best to avoid. Make sure that there is a space in the bathroom for everything. It may be harder to designate space if your bathroom is not very large, but it can be done.
Forgetting About Storage
You were told about a storage vanity earlier, but keep in mind that there are other storage options. From built-in shelves to small tables placed in the room, there should not be a lack of space at all. Earlier you were told about the resale value of a home, and this is very important when it comes to that. Buyers love storage, so keep this in mind when you are trying to decide how much you need.
Going With The Trends
This is a big mistake because what is trendy and fashionable now may be the opposite later. There is nothing worse than sinking all of your money into a fancy new bathroom that will seem old and dated in a few years time. It is best to find a classic style you like since those seem to never go out of style. The only time you should consider going with the trends is if you can afford to make changes every time something new is all the rage.
Now that you know everything there is to know about the mistakes you should avoid, it is time to discuss accessories. Your bathroom will need these after you are done with all of the renovations. You are almost done with your renovation journey, so don't stop now.
ACCESSORIZING YOUR NEW BATHROOM
You are pretty clear on what needs to be done in order to make your bathroom look nice, but you have not learned about accessories yet. Here are several tips about bathroom accessories that you do not want to miss.
Shower Curtains
While many people do not like these and they have opted for the sliding shower door or the glass enclosure, there are others who prefer this traditional look. When you are selecting a shower curtain, make sure that you buy one that will compliment everything in the room. You would be remiss to have a bathroom that is all back and blue and then install a yellow shower curtain. It may not seem like a big deal, but this can dramatically change the way the room looks and feels.
Don't Worry About Brands Too Much
Unlike with many other items in life, brand is not the most important factor when you are buying bathroom accessories. There are many lesser-known brands that create quality products that are guaranteed not to burn a whole in your pocket. You should look for these if you are not interested in spending an inordinate amount of money to get a product that will not be much better.
Buy Necessary Accessories First
Things like showers, toilets, bathtubs and sinks are accessories that need to be purchased right away. There is no need to prioritize a toothbrush holder, soap dish or a shaving cream warmer when there are more important items to consider. The idea is to make sure that the room is functional first. You can worry about filling in the blanks and adding all of the other accessories later.
Try To Choose Neutral Tones
When it comes to bathrooms, these are the tones that make the room look more airy and spacious. If your bathroom is not very large, you know how important that is. While you should feel free to add color by placing shower curtains, towels and other hued items in the room, the actual room should be more toward the neutral side of things.
Make Sure That Everything Is Complementary
Sometimes people see items that they want and they buy them without thinking things through. There are many items that will create a terrible clash if you try to use them together. For example, if you have a classic claw foot tub that is light blue, would it really look nice with red, modern lights? When you are trying to decide whether or not to buy an item, ask yourself if it will go nicely with everything you have already purchased so far.
Choose The Right Material
When you are choosing rugs, towels and things of that nature, you should always make sure that you select the right material. If you are going for a classic, homey feel, terrycloth is a great choice. Microfiber is good for people who like a soft and subtle look. Like with everything else, making a bad choice can dramatically change the look of the room, so make sure that you are careful when choosing.
Add Personalized Items
One way to make the bathroom your own would be to buy some personalized accessories. Monogrammed towels and soap dishes emblazoned with your initials are a few of the options you should consider. These items are generally not very expensive and they can add a bit of pizzazz to your bathroom. Beware; you do not want to add too many of these items or you run the risk of overdoing it and having the room look rather tacky.
Now that you have a firm grasp on how to accessorize, you have reached the end of your bathroom renovation journey. It may have taken you quite some time to get here, but you did it. There was a great deal of information to absorb along the way. Hopefully, you learned a great deal and have tried your best to use it to your advantage instead of allowing it to go to waste.
CONCLUSION
You may have watched television and movies in the past and felt in awe of some of the bathrooms you have seen. With the popularity of home improvement shows, you can see firsthand what it takes to renovate a bathroom. While doing your bathroom over yourself may initially seem like a crazy idea, many people have done it and they are more than satisfied with the results.
Whether you are an amateur plumber or someone who has barely picked up a hammer a day in his life, there is much information here that can appeal to either one. The idea is to use what you have learned to the best of your ability. This may mean that you are only doing half of the room and contracting someone to do the other half and that is fine.
There are going to be times over the course of the project that all you want to do is pick up the phone, call for help and have a seat. You should not feel ashamed to get help, but it is a good idea to try keeping your motivation up and doing most of the work yourself. This is what will give you the satisfaction you are looking for. Every time someone gives you a compliment on the bathroom, you can smile and let them know that you are responsible for doing that on your own.
The reality is that your bathroom may not look like those in magazines, but you should be satisfied knowing that you gave it some serious time and effort. That is not something that many people out there can say, and for this you should gladly wear a badge of pride.
If you have read every word here and you have discovered that this is more than you can handle, there is nothing wrong with that. As you were told here more than once, you should not try forcing yourself to do things that are far beyond your skill set. Perhaps you feel bad for not trying, but it takes a bigger and wiser person to know when something is far beyond their reach.
It is now time for you to sit back and enjoy all of the fruits of your labor. This may mean taking a nice hot bath in your new soaking tub, hopping into your new steam shower or doing your hair and makeup in front of your new vanity. Whatever you choose to do, just know that the ability to do this is a result of all of the work you have put into this project.
Now that you have done the bathroom, there is no limit to all of the other things you can do to make your home more of a personal space for you. Do you need large new closets? Have you been thinking about what to do with your unfinished basement? Is your kitchen old and outdated and you want to give it a facelift? Regardless of the problem you have, some of the skills you have learned here will help you along the way.
It is now time for you to get a pen and write out all of your plans. After that, you need to follow all of the other steps you were given here. It may take more time than you thought to perfect the space, but you will be fine as long as you have planned well. There is always a chance that you will make a mistake or two along the way, but you were already told that this is simple human error and you should not be too concerned about it.
This book is now at its absolute end. You have all of the knowledge, so let's see what you will do with it. The sky is the limit so make sure that you take advantage of that. Again, you can use all that you have learned here the next time you are working on a home improvement project. Good luck and hopefully everything will turn out like you plan.
&nbsp
---