How to Use Your New Android Tablet like a Boss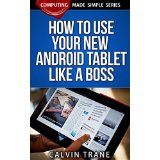 1. Loving Your New Android Tablet
We live in a world that is full of options and in many cases; those options benefit us in numerous ways. In today's electronically connected world, we have options as far as our operating system is concerned and we may want to take advantage of those options, because it can make our computing life much easier and more convenient. One of the options that have become available recently is the Android operating system, and it is used frequently on mobile devices, such as cell phones and tablets.
If you want to use an Android tablet, this publication can help you to use it properly and to get the most out of what it has to offer. In doing so, it will help you to take advantage of all the conveniences that using a mobile device can bring to the table. Throughout the pages of this book, you will learn different factors that will help you to speed up your computing and to do so more accurately. In addition, you will learn how to use your tablet to stay in contact with others in new and unique ways as well.
The first step in the process is to understand the settings of the tablet and to recognize the features that are available on the physical part of the tablet. When it comes to Android, both the settings and the buttons on the tablet are relatively simplistic. That doesn't mean, however, that they are not able to take care of a wide range of options, and understanding how to operate them properly will allow you to navigate the tablet like a pro. You will be surprised to learn that it only takes a few minutes for you to truly understand what the Android tablet buttons have to offer.
Mobile apps are also a large part of your new Android tablet, and you want to make sure that you are using them properly as well. Downloading apps is relatively easy, but there are some things that you need to be cautious of so that you do not cause problems on your tablet and perhaps even to your security. It is all part of customizing your tablet and when you do so properly, it becomes more convenient and you're able to use it for a wide range of functions.
Although Android tablets are used for a number of reasons, some of the most common include checking email, chatting with others and working with text. Although these may seem like rather basic functions, they can be complex, if you don't understand how to do them properly. We will review each of those factors in the pages of this publication, helping you to see how to work with them in the best way possible. You will find that your abilities are growing day by day and that you are able to do much more, once those basics are understood.
One of the most powerful features of your new Android tablet is the search function. In fact, you can use the search function and tell it what to do by speaking your command and it will be able to find almost anything that you want to find. This is not only true of local files but you will be able to use the power of the Internet along with the search function to find anything in your local area or around the world. The search function interacts with the applications of your tablet to make it possible.
Google maps is also a very powerful option and something that you will be using frequently, once you understand what it has to offer. We will talk about using Google maps, not only to help you find your way from point A to point B, but you will find that the maps program offers a number of other beneficial options that you can use on a daily basis.
Finally, we will talk about some of the difficulties that may be experienced with your Android tablet and how to overcome them. For example, having a regular backup routine and using one of the backup services will allow you to keep your data safe and sound. There may also be times when you find that the speed of your tablet is slowing considerably, but there are things that you can do which will help to boost the speed quickly and effectively.
You made a great choice when you purchased an Android tablet, and it will be a companion that will allow you to get more done and to enjoy your life in a fuller way. The information provided in this book will help you to use your tablet as if you had had it for a very long time and you will find that you are using it, because of all the benefits that it provides.
2. The Benefits of Android - a Look at the Others
In the previous chapter, we talked about the fact that there are options available when it comes to the operating system that you are using. When it comes to mobile computing, however, the most popular operating system is Android, and it is popular for a number of different reasons. In this chapter, we will take a look at the benefits that you will experience when using Android in comparison to using other operating systems, such as Windows or Apple.
Price - One of the primary reasons why many individuals choose Android over another operating system is because of the price. It certainly is less expensive to use an Android tablet, and iPads or Windows Surface units may cost as much as four times the price or perhaps even more than the Android that you are holding in your hand. It is possible to purchase a low-end Android tablet for under $200, although you can spend more, if you want all of the bells and whistles.
Convenience - The Android tablet was built for convenience, and it continues to get more convenient as the operating system is updated. In addition, the mobile world is now operating on Android to a much greater extent than they are operating on Apple or Windows, so you are using something that is familiar to most people who use mobile devices
Apps - The major players in the mobile device industry use downloadable apps for a variety of different purposes. These apps can help you to do almost anything, from checking your email to looking for the lowest prices for anything that you want to buy. When it comes to downloadable apps, there are more options available on Android and in many cases, the options are going to be free. If you do want to upgrade to the premium level, it is typically only going to cost you a dollar or two.
Productivity - Although it is possible to be productive on any tablet, you will find that the Android offers you more options for productivity because of its flexibility. This is seen in a number of different ways, including the fact that you can manipulate the UI in different ways to make it possible for you to see everything that you need to see at a glance.
Flexibility - When you use an Android, you have many flexible options that will allow you to change the settings so that the device works according to your specific needs. This may also be possible with other devices that are operating Apple or Windows, but it is likely to be more difficult for you to make those changes and in some cases, you will be locked into specific settings.
Updates - If you haven't noticed, the iPhones and other Apple based devices are constantly updating, and it is necessary to purchase the newest device (at a premium), if you want to keep up with those changes. Although there are advances being made in Android tablets as well, you will still be able to download the latest operating system and to enjoy the updates that it makes possible.
These are just a few of the many different benefits that you will likely enjoy once you begin using your new Android tablet.
3. Taking a Closer Look at the History of Android
Although the Android operating system is a relative newcomer to the scene, it does have a rather interesting history, if you take the time to look into it. Understanding the history of Android may not make you a better user of the device, but it can help you to appreciate what has taken place in order to get the device into your hand.
The company, Android Inc. was founded in 2003 and they began to work on the development of mobile devices that would be able to follow the individual's location and to maintain preferences. Initially, this was done for use in digital cameras, but it did not take long to see that the digital camera market was going to be somewhat limited.
About that time, smartphones begin to enter the market and it was obvious that they would become a very popular tool used by mobile users. The direction that Android was taking shifted at that point toward producing an operating system that would be used on a mobile smartphones, and one that would be able to rival the giants in the industry of the time.
In 2005, Google acquired Android and they also brought over a number of the Android employees who were very important to the development of the operating system. The Linux operating system was used as a base for Android at that time and with the power, and money, that Google had behind them, they began to look through the mobile market for both carriers and makers of devices that would be able to manage the new operating system that they were developing.
Of course, as is the case with many factors in the mobile and technological industries, the reason why Android was being developed was kept a secret. In 2006, however, the wait was over, because Android entered the market and since that time, they have continued to develop their operating system and even their own devices that would power the mobile industry in a very convenient way.
4. Understanding the Settings from the Start
When you first get your tablet, you will need to set it up properly. Going through the settings is somewhat easy, but it is important for you to take the right steps and to make the right decisions, so that your tablet will run smoothly and quickly. In this chapter, we're going to look at some of the basic options that will be necessary when you first set up the tablet. You can also get into additional options that will be discussed in the future chapter.
It is important to understand that any of the options that are discussed in this chapter can be edited and updated at any time. You are never locked into one particular setting, and that is one of the conveniences that Android has to offer. Setting them up properly the first time, however, will be much more convenient and save you the frustrations of changing them at a future time.
Establishing Your Google Account
Your Android tablet is powered by the Android operating system, which is developed and maintained by Google. You can use any email address to establish the settings for your Android device, but it is much easier if you use a Google account, powered by Gmail. It is a free option, and you can set up your new Gmail account if necessary within just a few minutes. In fact, your new Android tablet will walk you through the process of establishing your Gmail account.
The benefits of using a Google are really far too many to mention. Primarily, however, it allows all of your Android services to be tied into a central account. In that way, if you have another Android device or, if you get a new Android device at some time in the future, you can use the same account and settings. It will also allow you to back up your data to your Google account, which is free, provided you don't go over a certain amount of data. Any changes that you make to your device or your Google account will be instantly reflected through your other devices as well.
Another benefit of establishing a Google account is that it will allow you to download apps to your device. The Google play store will be attached to your Google account, and it will not only allow you access to the play store, it will also keep an ongoing record of any downloads, so that you can access them again in the future.
You are required or tied to using your new Google account for email purposes. Setting up a Gmail account can be convenient for that reason, but you can also account for a wide variety of other purposes and still use your other email addresses, regardless of whether they are Hotmail, Yahoo or any other address.
Establishing the Basic Set up Process
Along with establishing your Google account, you will have to set up many other factors in the settings for your new Android tablet. In most cases, you will be able to simply walk through the process and the settings will be somewhat simplistic, such as establishing the date, time and your Internet settings. Once you have these things established correctly, it will not be necessary to change them again in the future. Of course, any changes can be made by accessing the settings on your device at any time.
You will also be given the opportunity to establish your security settings at this time. Do not skip this process, because you will want to secure your device and all of the data that it contains. Some people secure it with a password but you can also choose a swipe pattern, which you will likely find convenient. Do not allow other people to access your personal data, simply because you do not secure your device.
One other feature that can be enabled during the setup process is your GPS. Having your GPS enabled by default allows Google and other applications to know where you are, so that they can provide useful information when necessary. This has also been a matter of debate, and many people are uncomfortable with having their location tracked on an ongoing basis. You can turn GPS off by default, but more than likely, your location is going to be tracked anyway through nearby Wi-Fi services.
5. Understanding the Physical Device in Your Hands
One of the benefits of using an Android tablet is its simplicity. When you're actually holding the tablet in your hand, you will notice that there are very few options available, as far as physical buttons are concerned. Admittedly, some of the apps that you download can be quite complex but when it comes to the basic functions of the tablet, they can be learned in just a few minutes.
Unfortunately, many people tend to skip this step in the process, feeling as if they will catch up because of its simplicity. When you understand where the buttons are and what you are able to do with them on your tablet, it allows you to use it to a greater extent and thereby enjoy your tablet to the fullest.
Home Button - This button is the primary button on tablets, and it is typically located in the center at the bottom of the screen. It may also be the only true "button" on the tablet, while the rest of the controls are clickable icons. When you click on the home button, it removes all of the existing applications that are open, pushing them to the background and displaying your home screen. You can easily change your home screen at any time.
Menu - The menu button is a bit more complex, and, depending upon your tablet, it may have a number of different features. On older tablets, the menu button gave you access to a wide variety of options that would vary depending if the app was open or even if you wanted your home screen. On newer models, the menu button typically shows you all of the applications that are open in the background and can be accessed quickly. It also gives you the opportunity to close those apps quickly as well.
Back Button - This button is relatively simplistic, but it is also underutilized. Quite simply, clicking on the back button takes you to the previous screen and clicking on it multiple times, will continue to move back the screens until you reach the home screen. Clicking on the back button may also switch between apps, such as if you just click on an email link. Clicking on the back button will typically move you from your browser back to your email program.
Power Button - This button, which is typically found on either side or the top of the device is also sometimes referred to as the lock button. It turns the device on and off, and, depending upon your settings, it may also immediately lock the device so that it is necessary to input your password or security swipe. Typically, you can also start the Android device by clicking on the home button, especially if the device has not yet been locked. This feature may differ from one device to another.
Volume button - This button is more like a rocker switch, and it has the simple task of turning the volume up and down on your tablet or other device. If you are listening to music or watching a video, the volume switch will control the volume associated with those features but if you are not currently playing any sounds on the tablet, it will probably turn down the system sounds.
6. Customizing Your Android Settings for Convenience
In a previous chapter dealing with setting up your Android, we talked about some of the settings that can be established during the initial setup process. Although it is a good idea to have everything established properly at that time, Android also makes it easy for you to change your settings at any time in the future. In this chapter, we are going take a look at some of the valid settings on the device to help you to determine which ones will be best for your needs.
The settings for your device can typically be accessed by sliding your finger down from the top of the screen. This will open up the notification menu, along with some of the quick settings that are most popular on your device. These settings may include the sound and brightness levels, along with GPS, screen rotation, Bluetooth, airplane mode and power saving. The specific quick settings that are available may differ from one device to another. On the pull down menu, you will also have access to the settings of the device, which are typically accessed through an icon that looks like a gear.
Although each device is going to have its own specific settings and the way that those settings are established, there will also be some similarities from one device to another. Typically, your settings are broken down into four different categories and each of those categories will have a variety of other settings that can be established.
Connection - This category, which is one of the more frequent that you will access has to do with connecting your device with other devices, including the network. You will be able to look for Wi-Fi connections locally, Bluetooth connections and you will be able to find nearby devices that would allow you to connect to them. You may also find additional options available, such as establishing a virtual private network or printing. Airplane mode may also be available in this section, and you can sometimes get an overview of your current data usage.
Device - This section gives you access to a wide variety of options that are typically set once according to your preferences. Some of the options that may be available in the section include sound, display and multi-window options. You can also typically customize a number of different features of your device that will affect your home screen and your lock screen. This could include changing the wallpaper or font on your device. Notification options may be available in this section and you can also access accessibility options, which can improve your Android experience.
Controls - There are not typically many options available under this section, but it can help you to control the input and language of your device. There may also be additional options available in the section, such as smart screen options or Palm motion, which allows you to control your device in unique ways.
General - All of the other options that were not found in the other sections will likely be located in this area. It could include backup information, cloud computing and access to various accounts, including Facebook and Google. You may also find device manager options available, such as getting a closer look at your applications and accessories, battery power usage and date and time settings.
It is a good idea to familiarize yourself with the different settings on your Android tablet. In doing so, you will have an opportunity to customize things so that they are just right for your needs.
7. Securing Your Android Device
More and more frequently, people are becoming concerned over security issues and this is especially true, as the world becomes electronically connected to a greater extent. When operating your Android tablet or simply owning or keeping personal information on it, you would want to ensure that your security settings are established properly from the start. In this chapter, we are going to review some security options that are available, some of which can be established when you set up your device and others that can be established later.
First of all, it's important to recognize that no amount of security is ever going to stop people from prying into your business. If you're using your Android in a public location, always be aware of your surroundings and watch for anybody that may be looking your shoulder. It would only take a simple picture, which would be taken on their smart phone, and someone could access your personal information that is up on the screen for their use at a later time. Always pay attention to what is going on around you when operating your Android device.
Passwords - Sometimes, securing your Android device is as simple as paying attention to your passwords. I'm not going to provide a complete lecture on password security, but it is important for you to avoid the use of common words that could be easily hacked. In addition, you need to be cautious about saving your passwords, both on your Android device and on any computer that could be accessed at a future time. If someone had access to your passwords, such as the one for your bank account or your email, you may stand to lose a lot.
Lock Your Device - Although this may seem like a simplistic statement, you would be surprised with how many people do not use the built-in security options that are available on Android devices. You can choose to use a password or a pattern swipe and make it necessary to use the security each time you use the device. The inconvenience of having to enter a password or swipe your screen is small in comparison with losing your identity.
Logout - Many apps give you the opportunity of staying logged in to secure locations, either for a short amount of time or until the office closed. These would include your email account, Facebook and similar programs. If somebody should access your device and open it before it locks, they would have access to all of the information and anything that was behind the password. When you are done using an app, log out of it.
Lock Your Apps - There are apps available that take the matter of security to a higher level. They allow you to lock specific apps so that they cannot be accessed without the use of a password. You would not necessarily want to use such an app on all of your applications, but it is convenient and beneficial to have it available on those that require higher levels of security.
Permissions - When you download an app from the app store, pay particular attention to the permissions that are provided. It can be quite dangerous to download apps if you give them permission to access areas of your device, such as your text messages, passwords or email contacts. Keep in mind that the apps available on the Google app store are not always safe and they are not required to pass a security test before they are available for download. If an app is requesting permission that seems to be outside of the boundaries, it is best if you don't download it.
Multiple Accounts - In more recent updates to the Android operating system, there was an option to create multiple accounts on a single device. This can be quite beneficial, because it can allow various members of your family to access the device without accessing your entire stash of personal data.
Backup the Data - Finally, you should always prepare for the worst and backup your data to the cloud. When you have a backup of your data, it helps to safeguard you from losing information, such as valuable pictures, videos and documents. There are options to back up your data for free to the cloud, such as through Google Drive, or you can purchase more space if necessary for a few dollars a month.
8. Downloading Apps - What You Need to Know
Once you have established your Google account, you will be eligible to access the Google play store to download applications. Although you can use your new device without any additional apps, you will certainly find more benefit when you download the right apps and understand how to use them properly. This chapter will review some basic information about the Google app store and some security features that should be considered when downloading applications to your device.
The first step is to connect your Google account app store, which it will do automatically when you set up your Android device. If necessary, you can associate with the simple click of a button. You will likely find the app store icon on the home screen, although this can also be found under the menu option of your home screen that shows you all applications that are currently installed on your device. After clicking on the icon and logging into the app store, you will have a number of options available.
The home screen of the app store provides you with easy access to some of the more popular applications available under a wide variety of subjects. There will also be advertisements, which are very difficult to distinguish from the pre-suggestions that are made by the fine people at Google. Typically, it is best if you go into the app store with something specific in mind and begin your search.
The search icon looks like a magnifying glass and it can be found in the upper right corner of the Google app store. You can either search for a specific app, such as Facebook or YouTube or you can run a general search, such as one for "racing games". You will have a number of different suggestions available, and the top suggestion will likely be the application that is specific to your search. It will also typically have an icon associated with it.
Downloading and installing a Google app is very easy, as you will just click on the install button, accept any permissions and allow it to do its work. Some devices will automatically put the icon on an accessible screen once it has been downloaded but in other cases, you may need to long press on the screen and drag the icon in place.
You also have access to a menu that can slide it from the left-hand side of the screen. On that menu, you can access the home screen of the Google store, a list of any applications that have been downloaded, your wish list and people who are connected to you through your Google account. You can also access your account to make any updates that are necessary.
It is a good idea to search through the Google play store and look at all of the options available for applications. You should be cautious, however, because there can be some security risks associated with downloading, if they have access to sensitive material on your device. Whether you download or not, you will be able to see the permissions that you are giving to it, such as access to your email account or your Facebook contacts.
9. Syncing Your Device
One of the conveniences of using an Android device is that it allows you to synchronize your data automatically. In fact, it is typically one of the primary options available by default in the quick reference settings on your tablet, right along with the volume, Wi-Fi and Bluetooth. Although syncing your data is something that is beneficial, it is also something that is often misunderstood. Should you keep this enabled by default or is it better if you sync your data manually? This chapter will explore what takes place when the data synchronizes and what you should know before enabling this area of your Android tablets.
First of all, there are a number of different types of data that can be synchronized and in some cases; you may not be able to see the different types of data easily to select them. Understanding these four different types of synchronize data can help you to make a decision as to which one you should leave on by default. The following four different types of data are the ones that are typically synchronized when you enable this option.
Application Data - There are many different apps that can be downloaded from the Google play store which have the capability of synchronizing data to the cloud. All of this is associated with your Google account, and it all takes place behind the scenes. When you have the app data synchronized by default, it will look to all of those applications and upload any changes so that the data is not lost. It may be possible for you to turn off the synchronization in any one of the individual apps, especially if it is data intensive and is using up a lot of bandwidth or space in your Google account.
Game Data - This is very similar to the application data that was discussed above, but it is specific to the games that you are playing and have downloaded on your device. Not all games are going to take advantage of syncing data, but there may be some that would do it regularly.
People - This area is often misunderstood, because it is not associated with your contact list but rather, it is associated with you and your usage of various games in the Google play services. It will continue to synchronize your account to ensure that all the games that you are using are connected to either your Google account or your Google plus account. Some people turn this information off if they do not play a lot of games and are concerned about privacy issues.
Location - This area may be convenient, as it can report your location on an ongoing basis to your applications and make it easy for them to supply you with information that is relevant to the location. One of the ways in which this can be beneficial is if you use Google maps, because it can easily find you and the area where you are in order to help you find services or to get directions. Location reporting has also been the subject of much debate, and many people consider it to be a violation of privacy with the potential of Google providing that information to outside services that would use it for other purposes.
Syncing your device can be convenient, as is the case with email or Facebook updates. They can also be a drain on the battery and if you are having difficulties with the speed of your device, you may also want to look into the data that is syncing as well. In most cases, it is safe for you to sync your application data, but you may want to look into the other areas to see if they are draining your speed or your battery life.
10. Working with Text
Although your Android tablet can be used for many different purposes, one that it is commonly used for is to view and edit documents. When you understand how to do this properly, you would be surprised with how quickly you are able to take care of the information that is in front of you. In fact, a seasoned Android user will often be able to manipulate data to the extent where it rivals the speed of their desktop computer. The following information can assist you in making the most out of your Android.
Understanding the Long Press
In order to understand how to care for text on your Android tablet, you need to understand the local press function. In essence, this is where you press your finger on an area of the tablet and hold it for approximately one second or longer. When you do this over text, it will begin to highlight the text and then you can grab and drag the tabs from each end in order to select the exact text that you wish to copy, cut or share.
While you are working with text in this way, a menu will appear at the top of the screen. A number of different functions are available, including the "select all", which is very convenient if you wish to select the entire document. You will also see options such as cut, copy and paste. Additional options may vary from one app to another and from one device to another but they may include web search, which would allow you to search for the text on the Internet and share, which allows you to share the copied information through a number of different formats.
It is also a good idea for you to become familiar with how to enter text on the Android tablet. The easiest way to do so is through the on screen keyboard, paying particular attention to the spell-check and correction options that are offered as you are typing. As you continue to become accustomed to the feel and the process of using this on screen keyboard, you will find that you are able to improve your speed considerably. You also have the option of dragging your finger from one letter to another, which many people find to be much more convenient than hitting each key independently.
Another option that you may want to consider is using the voice to text tool that is provided through the Android operating system. This tool is surprisingly accurate, and as long as you speak clearly, it will likely understand what you are saying and type it out on the screen for you. It is beneficial if you check the text before you share it or send it, because there are some times when embarrassing or unusual errors can occur. It can help to speed up the process of entering text on your Android device considerably and, as you continue to use it and correct any mistakes that are made, it becomes better at understanding what you have to say.
11. Making the Most of Your Email
Although your Android tablet may be used for a variety of purposes, the most common use of such tablets is accessing email. In fact, this is one of the most common things that is done by all Internet users, and your new tablet certainly does make it easy to access, read and send emails. In this chapter, we're going to explore some of the options that are available for using your new tablet with your existing email account. We will also discuss the possibility of opening a new email account, as it may be the most convenient option available.
First of all, it's a good thing to recognize that Android is developed by Google, so the Gmail platform is going to be the easiest email to use on your new tablet. If you follow the information that is provided in this publication, you would have set up a new Google account so that you can access all of the features, including the app store and the cloud, where you can back up your data. You can also use the Google account for your email, and it is one of the better options that are available.
Gmail is free, and you will already have your new Gmail account established according to the Google account that you set up when you first purchased your Android tablet. In addition, you can import your settings from other Gmail accounts, if you have them available. Gmail is excellent at managing email, as it helps to remove spam from your inbox and to sort your email to a limited extent so that it is easier to find and respond to. You can also change the way that your Gmail account works so that it sorts your email according to your needs.
Although your Google account is the primary email account that can be used on your Android device, it is not the only option that you have available. It doesn't matter what email address you have, regardless of whether it is Hotmail, Yahoo or perhaps an email through your business account, it is possible to access the email and to use it conveniently on your Android tablet as well. In many cases, it will be necessary for you to download an application that is specific to the email that you are using. You will find that those apps are quite convenient, and they offer you the ability to use your email easily on this platform.
Although it is possible to use any email address on Android, I would suggest getting accustomed to and using your Gmail account regularly. Since it is integrated in the Android system, it makes everything easier if you use it. Gmail also allows you to use your other email addresses, either on their own or you can integrate them into your Gmail account as well. In any case, you will find that it offers you options that may not be available through the other services.
12. Using Chat - a Great Way to Stay Connected
There is always a debate between using an iPhone or an iPad and using an Android device. There are specific differences between the two devices, although either can be very convenient, if it is used within certain parameters. One of the factors that often gets people to use Apple rather than Android is the availability of a chat program that is conveniently used between Apple devices. Although it has been marketed in this way as being a convenient option, Android also offers chat options that are integrated into the system and can easily be used as well.
Chatting is a great way to stay connected, and with your Android device, you can use a number of different features that will allow you to stay connected in this way. You can either use it in more of an old-fashioned way of chatting, by typing in real time with people who are also connected with you or you can use audio chat and even video chat on most Android devices. In this chapter, we are going to look at some of the options that will allow you to chat on Android, and to show you how convenient it is to get started.
As is the case with any function on your Android tablet, you will need an application that will allow you to chat with other people. The primary application that is used for this purpose on Android is Google Talk, which is integrated directly with the system. In almost all cases, it has already been downloaded to the device when you first purchase it, so it is really just a matter of connecting it to your Google account, opening it and beginning to talk to others.
Google Talk has a number of different functions that really make it shine when compared to other chat programs that are also popular on many devices. One of the features that you will enjoy is the fact that you can connect with multiple other devices and have videoconference chats, all of which can be done free of charge. This function may be offered through other services, but it is likely that you will pay additional money when using it.
In order to use Google Talk, you will need to connect with other users who are already in your Gmail. Google Talk will already be available on their devices, and you can also connect with people who are using Gmail on their desktop as well. It is possible to video chat with people on an iPhone through Google Talk as well, but they will need to download the application and run it.
Another program that is very popular for video chat and text chat is Skype. This is also a program that is already downloaded to many devices, including desktop PCs and tablets. Even if it is not a part of the operating system that has been downloaded automatically, it is likely that at some point, it has been downloaded and used for either business or personal purposes. You can also download the Skype application for Android free of charge from the Google play store. Once you have a free Skype account, it is possible to chat with people one at a time using the video camera and microphone that are built into your tablet.
Video chat is an excellent way to stay in touch with people and it adds more of a personal feel to the conversation that you are having. You need to be cautious on a number of different levels, however, because of privacy reasons. This is especially true if you are chatting in public, because people that are standing behind you could easily view the screen in front of you. In addition, you should be cautious about putting yourself in a difficult situation; because once something is online it is always online.
13. Searching with Your New Tablet
Your Android tablet is integrated with Google search by default, and it is understandable, since Android is developed by Google. More than likely, you are familiar with the Google search results and all that they have the offer but with your Android tablet, you can go much further than a simple search. When you really understand the power that searching on your Android tablet has to offer, you will find that it presents many conveniences that you may not take advantage of on your desktop computer.
First of all, it is possible to use the search feature on your Android tablet, either by typing in the search parameters or by speaking it directly. In either case, it will look for local files that match what you are searching for and at the same time, it will also search on Google for any results that are available as well. This is really different, because most of us are familiar with searching Google on our desktop computers and only looking on the Internet for the results. Don't overlook the possibility of searching for local files, including pictures and documents, which are located on your Android device.
One of the powerful features of your Android tablet is the ability to use your voice to search for you. You can also use your voice to give commands to your tablets, such as asking it for directions or perhaps telling it to look up something specific. This can be done in a number of different ways, but the easiest way to do so is by using the "okay Google" command. This command is integrated into the search results and when you say it with the search bar open, it will automatically start listening to your voice and will follow your instructions.
Something that you may want to consider, particularly if you use the search function continually on your tablet is having the "okay Google" command active in any window. You can change this in your settings, and regardless of where you happen to be on your tablet, you can simply say "okay Google", and the search bar will open and begin listening for your command. Doing this is very convenient under certain circumstances, but it is also going to be a drain on your battery. It is important for you to determine if you will use it frequently enough to make the drain on your battery worth the extra charge time.
There are so many options available for searching Google on your Android device, it is difficult to name them all. Some that you may find convenient however, include, searching for your flight number, which will provide you with the flight information conveniently on your screen. You can also search for the weather by asking for it and including your ZIP code or city name in the command. Additional options that are available for searching in Google include getting financial information, searching for local businesses by ZIP code and getting movie times, simply by saying the moving name as a search.
The more you use your Android tablet to search the web, the more you will find that it is convenient beyond compare. It can really help you to get more done faster, once you understand the search parameters and experiment with the options that are available.
14. Finding Your Way Around with Google Maps
Another convenient Google feature that is integrated with your Android tablet is the possibility of using the Google maps application. More than likely, Google maps has already been downloaded to your device and is available by default. If it is not available, you can search for it on the Google play store and download it for free. There is no charge for an upgrade and you will have all of the features that it offers without any charge. Unlocking the abilities of Google maps is a matter of understanding how to use it properly and once you understand the application, you will find that it offers many conveniences.
One of the primary conveniences that most people use when operating Google maps is the navigation feature. Your Android tablet can discern where you are by using GPS or by connecting to nearby Wi-Fi services, although doing so is less accurate than your GPS. Once you have everything turned on, the Google maps application can guide you, step-by-step from point A to point B, even speaking the directions as you are going. You will find it to be very convenient, not only when you are driving but also when you are walking or biking in the area.
Using the navigation feature with Google maps is very easy on your Android tablet. You can open Google maps and type the information in or you can simply open the search bar and tell Google maps to "navigate to" your destination. You would be surprised with how accurate it is and you can be as vague as a ZIP Code or as detailed as a specific address.
Another feature that you will enjoy about Google maps is the live traffic conditions that are available. For example, if you need to travel to a destination or perhaps even to commute to work, you can look for any accidents or other issues along the route and get information about those accidents, allowing you to take an alternate route if possible. These live traffic conditions are updated frequently and you would be amazed at how accurate they are, even providing you with information about which lanes are blocked and when the incident occurred.
If you plan on traveling to another area or if you just enjoy looking up information about the world around you, Google maps can be your guide as well. In many areas of the world, street view is available and you can zoom right in to see the sights. Of course, this is also very convenient if you are going to be traveling to an unfamiliar area and want to see what is nearby before you get there. Google maps also contain a lot of information that is extremely detailed on popular locations, including pictures and nearby attractions.
Become familiar with the Google maps application and use it on a regular basis. You will find that it offers solutions to your problems, especially if you are traveling. Regardless of whether you are traveling to work in the morning or if you are traveling across the country on vacation, Google maps is there to help you to make the trip much more convenient.
15. Save Your Data with a Backup
As is the case with any of your computer devices, including your PC and your smartphone, your tablet will also contain data that you would not want to lose. Many people keep sensitive data on the Android tablet, and you may want to do so as well, provided you have your security settings properly established. You can also have keepsakes, including pictures that are taken with the tablet or short video clips, documenting the places you have been and the things that you have done. The last thing that you would want to do is to lose that data and all that it has to offer.
Fortunately, there are options available that would allow you to back up your Android tablet effectively, safely and quickly. It is not necessary for you to attach it to a secondary device and transfer the files for this to take place, the backup features that are available take place in the cloud and in many cases, your information is backed up in real time as you go about your day to day life and use your tablet. It is a very convenient feature but unfortunately, it is also a feature that some people tend to overlook. Understanding the options for backing up your data can help you to stay safe and to keep your data safe as well.
First of all, there are a number of options available for backing up your data and you may want to look into additional options, especially if you are using your Android for extremely sensitive information or if you are backing up a lot of data every day. For most users, however, the Google account that they established when they set up the tablet is enough for this purpose, because it allows you to back up your information on your Google drive account.
What are the benefits of doing so?
One of the more obvious benefits is that Google drive is free, at least on a limited basis. As long as you don't go over a certain amount of data usage, you will not have to worry about paying the premium to use it. Even if you do backup a lot of data, and you also backup from your PC or other device, you can usually get plenty of storage space for most users for a matter of a dollar or two every month. It is well worth it when you consider the consequences of losing your personal data because it was not backed up properly.
Another benefit of using Google drive is that you will have access to the data account from any computer, tablet or smartphone that has Internet access. Simply go to Google drive or open the Google drive app, log in using your Google account information and you can browse through the data easily. This is especially convenient for users who want to access photographs that may have been taken on another device. It is also a very convenient option for business users, who may not want to carry their PC with them and simply want to access the data from their tablet.
You can set up the backup services in your settings, but you will also be given the option to do so when you first set up the Android tablet. Synchronizing your data by backing it up to the cloud is a choice that should not be overlooked and it is one that is secure, providing you with the peace of mind knowing that your data is safe.
16. Speed up Your Android When Things Get Slow
When you first purchase and begin using your Android tablet, you will likely be amazed with how quick it is to respond to your commands. As time continues to move on and the tablet gets used frequently, however, you may find that it is slowing down and can even become frustrating because of how sluggish it is. In this chapter, we are going to provide you with several different tips that can help you to speed up your Android device, if you are having problems with the speed.
Clean House - One of the first things that you should do is to remove any of the apps that you don't use on a regular basis. Although you may have a lot of space available on your external card, the internal card may be somewhat limited and this can really slow you down, if it is clogged up with unnecessary apps. You will find that clearing apps serve several different purposes that can help to make your tablet faster.
First of all, it helps to free up space on your internal memory card, allowing your tablet to utilize that space for the operation of the system itself. Secondly, some of the programs that you remove will be running in the background at all times, trying to synchronize or watching your location through GPS. This can also slow down the tablet considerably, and it is not necessary for many of those items to be running in most cases.
Typically, it is best for you to remove any applications that you don't use regularly or that have not been used for a period of 30 days or longer. If you find that you need those items at some point in the future, you can download them again from the Google play store and begin using them regularly.
Clear the Cache - Another option that will offer a quick fix in many cases is to clear the cache of your tablet. This is something that can be done manually, but you can also download free apps that will run in the background and clear it on a regular basis for you. These apps are very convenient, and they have a very small footprint so they are not slowing down your tablet while trying to speed it up at the same time.
Upgrade Your Card - The SD card, which is the external card that is available in most Android devices may need to be upgraded. If you are using the card that came with the device, or if you are unaware of the fact that there was such a card, it is likely that an upgrade is in order. You can back up the card to the cloud or back it up to another computer and then reinstall the files once the new card has been inserted.
It may also be possible to move some of your programs from your internal memory card to the SD card. This can free up some of the internal memory while at the same time, allowing you to keep the more important apps running on your device.
Factory Reset - Although this is the last ditch effort to speed up your Android, it is one that works great in most cases. If you are going to do a factory reset, you should recognize that you are about to lose everything that is on the internal memory card (not the SD card). Make sure that you backup everything before doing a factory reset so that you can reinstall it. Most of this will take place by reinstalling apps from the app store but you should also consider documents, pictures, videos and other files that would need to be backed up from your tablet so they are not lost during the reset.
17. Top Recommended Android Apps
One of the benefits of owning an Android device is access to the app store and all of the features that those applications have to offer. There are thousands of apps to choose from, some of which are more essential than others in our opinion. In this chapter, we are going to suggest some of the top applications that should be included on your device.
Pandora - Although there are many music apps to choose from, Pandora does a great job of streaming music according to what you want to hear. You can start a Pandora account for free or pay a small fee to listen to music without advertisements.
Splashtop - Although this is not a free app, it is very inexpensive and if you need it, it will be worth its weight in gold. Once set up properly, it allows you to access your desktop computer remotely and to manipulate files. Never be caught out of the office or away from home without this application, because you never know when you will need that forgotten file.
KAYAK - This application is considered to be essential for anyone that is looking for inexpensive flights, car rentals or hotels. You can track everything right from your tablet and save a lot of money in the process.
News - Most major news outlets will have their own news application, which allows you to keep up with the latest happenings in your area or in the world around you. Search the Google Play Store for more information about the news app associated with your favorite news outlet.
Google Cloud Print - If you have a printer connected to your Google cloud services, you can use this application to print something from your Android tablet while you are on the go.
Google Keep - In many cases, this application will already be downloaded to your tablet but it is worth downloading if you donít yet have it. It allows you to record information in the form of pictures, lists, voice memos or links and to upload it to the cloud, where you will be able to search for it when you need it.
&nbsp
---