How To Start Hobby Farming - Small Scale Farming Made Simple!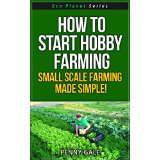 INTRODUCTION
Anyone who is serious about taking the time to grow a good percentage of their own food, tend colonies of bees, nurture an orchard, raise animals, manage a pond, man a timber stand, or even generate some of their own renewable energy on their own land may want to consider putting together their own hobby farm. This is a process that is all about living close to the land, working to care for it and letting it truly inspire your daily life. Putting together a small-scale hobby farm can also be a great way to contribute to the livelihood of your family, through the sales of your products that could include fresh produce, honey, eggs or even surplus energy.
Living on your own farm opens up new ways that you can engage with the natural world around you, with all of the seasonal patterns. Many people who have small-scale farms love the way that it helps to provide for a lot of the simple needs of their family in a sustainable manner, offering a great foundation for many adventures for children and more. Small-scale farming, often referred to as hobby farming, part time truck farming, market gardening or homesteading, is a great way for people to work the land for their own pleasure, while also being able to enjoy some incredible profits. Today, you are actually just as likely to see a hobby farm in the city or even the suburbs, as you would on a secluded country lane.
When you have enough pasture or land that you are able to work with, a variety of livestock can be raised, even on smaller land holdings. A backyard is a really great place to have hens or rabbits, and larger lots or even a few acres are nice for llamas, sheep, goats, or a horse or cow, all depending on the ordinances in your local area. As a matter of fact, you only need a small bit of acreage to raise goats, but you just need to make sure that you are able to supplement their pasture area with a good bit of grain and hay. Because it is so easy to do in most areas, the popularity of hobby farming is growing at a very rapid rate. More and more people are working to reclaim their control over the quality of the food that they are eating, while rediscovering the joys of working with and living so close to the land.
Despite the cute name and whimsy of the idea, hobby farming is a process that requires a lot of hard work, and there is often a commitment that must be made to learn a lot of new skills. You may have to take the time to learn some of the finer points of pruning an orchard, growing your vegetables, birthing livestock or even canning your own goods. In addition to registering your business, a hobby farmer will also have to pay any of the applicable sales taxes in their local area, open a separate bank account and keep track of all of the expenses or revenues that are going in and out. For any hobby farm, especially one that has animals, there is no such thing as being able to take time off.
When there is cold weather on the horizon, winter becomes a time when you can plan for the gardens for the coming year, work on processing goods that you recently harvested, make repairs on your equipment or around your farm and more. Farms that are located in warmer regions, however, will be able to produce their crops as well as their products all year long. It is all a matter of picking out the best produce and goods for your farm and deciding what you can handle as you make goals for small-scale farming.
USING THIS E-BOOK
Maybe you have stumbled upon your own ideas of starting some sort of a hobby farm by default, or maybe this is something that you have been thinking about doing for a long time. It could even be that you simply ended up living in a place where you had a good bit of land, and so you decided that it was time that you did something meaningful and rewarding. No matter what the reason might be, you are going to find that the information listed within this eBook will come in very handy as you embark on your sustainable journey.
This is an eBook that is made to motivate you, the hobby farmer, to inspire you and teach you how to start something new and wonderful on your own land. Each of the sections within this eBook is filled with helpful tips, tricks and ideas. You will also find lists that you can use to put together your own farm, or to use as a guideline that will help you when you are getting started with the planning process.
There are going to be different stages that you will need to go through as you start in on any sort of entrepreneurial journey. When you are working to make yourself a profitable hobby farm, you will find it useful to have all of the information handy when it comes to the different organizations, financial groups and different trade associations that will be able to help you along the way.
STARTING YOUR HOBBY FARM
Farming and working with livestock is something that is an important part of not only our economy, but also our daily life. In the last decade or so, small-scale farmers have really stepped up to answer the call for farming, sustainable resources and fresh produce for a number of reasons. To farm now is to take part in a new civil revolution, and any individual who answers the call to farm is able to start a beautiful and rewarding farm venture. For a lot of farmers, the simple act of farming will go hand in hand with the revival of local economies and helping to grow even stronger communities.
The call to farm is something that comes from a number of factors, including the country, the land, the economy, our health system, the environment, the food system and even our friends, family members and much more. All of these factors are urging and supporting you in your efforts to help forge a new and exciting farm destiny. It becomes the responsibility of all citizen farmers to make sure that they take a greater role, when it comes to forging a new and rewarding food system that will lead your community well into the future.
How are you going to respond to the call to farm?
Pioneers and cowboys have long been American icons, however it is the farmer who worked to plant all of the seeds that led to the prosperity of America, by feeding everyone in our growing country and also being a conscious and careful steward of our land. The farmer is a true patriot that is hard working, productive, independent, self-made and community spirited. Throughout the centuries, the farm economy of America has been able to stay strong through both good and bad times. It has worked through innovation and improvement, and made sure that there have always been new and creative ways to fully grow food in an efficient manner, while maintaining responsibility.
However, through it all, the call to farm is stronger and more urgent than ever, with only about one percent of the population actively involved in farming. Nearly half of our farmers are now over the age of 55. And while these farmers are still producing a good amount of food for the nation, there is a massive need for a newer generation of young farmers that are going to be willing and able to take over the successful businesses of the past, and continue to carry on our positive agricultural future into the 21st century.
The great news is that the number of younger farmers who are under the age of 35 has actually doubled over the past decade, These young farmers come from a wide range of backgrounds and start their farming journeys for a number of reasons. The United States Department of Agriculture, USDA, recognizes the need to support such young farmers. It has been working on new programs and a number of resources built for training and supporting these young people, so that they can thrive in a rewarding farming venture either on a smaller, hobby scale or a much larger farm venue.
A FARMING CAREER
There is not a farmer in the world, no matter how big or small their farm is, that will tell you that they have an easy job. However, they will tell you just how incredibly rewarding it can be. There will be a variety of hardships to overcome, especially if there is ever a call to access land or look for financing. Yet, there are a lot of rewards such as self-development, self-reliance, the chance to invent and even figure out creative, new ways to work and more. To make it even better, working on your very own farm also allows you the opportunity to be your own boss, which can be extremely rewarding in and of itself.
Farming itself is a very sound career investment, as everyone needs to eat. There are a lot of people working within the local food system in and around the suburban and urban areas, in addition to the rural landscape. Hobby farmers have access to the best foods and they have the ability to develop deep connections within the community. Whether you are looking to raise goats for the milk to be used for cheeses, soap making and more, or you want to grow herbs that you can sell to local consumers and restaurants, there are opportunities in farming that can be truly rewarding and profitable.
ADVICE ON FARMING
If you do not know anything about farming, you should never count yourself out. There are a lot of new farmers that will start with little or no experience, and they simply learn as they go. All of these farmers work to emphasize the importance of learning new things each day, whether they are working as an apprentice and getting their hands dirty, picking out a farmer mentor, taking classes, visiting farms and farm related businesses, reading books or simply learning, all the while navigating their own small-scale farm and going through a bit of trial and error.
What is it that most new farmers have in common? Most often, they started in on their farming career by working as an apprentice, or they found a job working for someone else on a farm. This hands-on learning approach is absolutely the best way to fully gain the experience that you will need to successfully farm on your own land in the future.
You will be amazed at the number of resources that you will be able to use to get advice on farming, when you get started. Not only are there a lot of networks and associations out there geared towards small-scale farmers, but you will also be able to find information and advice from some of the other hobby farmers that are within your local community. The more that you look for advice and remain open to new ideas, the easier it will be for you to grow your hobby or small-scale farm venture into something that is truly rewarding and sustainable.
Tips:
- Find a niche and diversify. If you are able to go into the game with an idea or product that is unique, you are going to be able to corner the market when you go to sell your goods. Examples are honey products from raising bees or even woolen goods from alpacas.
- Try to learn as much as you can by talking with or even working with other established farmers.
- Educate yourself whenever possible on the true realities of farming.
- Remember that the reality is that you may need to start, then quit, then start over and even try something completely different, before you are able to get your farm going and running smoothly.
- Try to visit as many farm related shows and activities as possible so that you can immerse yourself into the lifestyle, even volunteering wherever possible. You might just be amazed at the people that you will meet and the information that you will be able to soak up.
LEARNING TO FARM
No matter what type of farm you are looking to build upon and grow, there are going to be countless benefits that will come from all of your hard work. If you are looking into hobby farming to turn some sort of a profit, you are going to be able to forge incredible new relationships between the countryside where you may be living and the cities nearby, to help provide quality foods and goods. When you collaborate with other farmers, families, chefs, shop owners and others who live in neighboring towns, the possibilities are going to be virtually endless. You can work on raising animals, baking breads, collecting honey, making jam, launching food-processing kitchens, and in the process bring in more money for your community and your family.
When you have a farm business that brings in money, you will have the potential of creating jobs within your community as well. You will be able to be an active member of a growing community of young farmers across the entire country. When you stop to think about it, being a farmer is really an incredible career path that comes with a lot of different perks.
Learning to farm will mean that you can work outside in nature every single day, improve upon your land, and eat fresh foods and more. Living off the land and producing quality products from nature to support your family, or offering goods to others can be a rewarding experience in itself.
Hobby farming will require on-going education, a good bit of planning and patience, and of course, personal strength. Making your own farm or farm business is going to take some time, and there are many steps that you can take to become a great farmer, including:
- Be active every single day. This will mean taking care of both the property where your small-scale farm is located, but also yourself.
- Pay attention to your finances and manage your money. When you start to save properly, pay off your debts, set realistic goals and budgets, develop quality accounting skills and create a business plan for your farm, you are going to have a solid base for getting started.
- Work on a plan. This will mean putting together your business plan, talking with anyone necessary about your land, contacting your local Chamber of Commerce and even consulting with other farmers in your neighborhood that may be able to help you hone your farm plans.
- Do everything that you can, to grow within your community. Meet up with other beginner farmers and forge a network that you can count on, including relationships with any other land owning friends. Through a good bit of legwork, you will be able to build quality relationships with the farmers, fair associations, 4H groups and more within your community.
- Start working as soon as possible. Get going on farm internships or apprenticeships, look for farm jobs or even take a couple of shifts at your local farmer's markets, so that you can learn more about how all of it works. Apply yourself to the work, and get a feel for the rewards that come with the energy that you put forth into your farming ventures.
PARTICIPATING IN TODAY'S FARMING MOVEMENT:
Take Classes
You can benefit greatly from learning more about all that goes into bringing the food from farm to table, especially when you learn all about the lowest costs to do so. Taking classes that are available through local agricultural organizations, clubs and schools will be a wonderful way for you to learn more about farming and the retail side of it. Learn all about canning, small business development, animals, composting, bee keeping, gardening, solar energy and much more. You may even be able to gather valuable information through community events, agricultural newsletters in your local area, online blogs and so on.
Support Local Farms
Purchasing goods from local farms can be an incredible way for you to learn more about the types of crops, farms and animals that are within your local area. Not only that, but supporting your local farms can be a nice way for you to get to know some of the farmers that are in your community. Simply visit roadside stands, co-ops, farmers markets and CSAs, and sample local products, buy your groceries and soak up whatever knowledge you can.
Share Your Knowledge With Others
4H classes, agricultural classes in local schools and other clubs are always looking for good volunteers. You can work to help mentor the youth as they go forth to explore a variety of agricultural topics, and you can in turn enjoy the benefits of learning from what the youth has to offer. Whenever possible, why not offer to help with community events and classes on composting, raising different animals, cooking and more? When you share what you know, you are going to be able to open up a lot of different opportunities for you to learn from others.
Visit Local Farmer's Markets
There are a lot of neighborhoods that have farmer's markets that will provide a great marketplace for all sorts of goods that are produced locally. Farmer's markets are a nice place where you can forge relationships with local farmers, get to know what is important in your region and even ask questions. Supporting these farmer's markets will put money right where it belongs, in the hands of the local farmers. While you are showing your support for local farmers, you can give them feedback, post reviews online, share feedback with others and draw some positive attention to their farms, or the goods that they provide.
Support Community Gardens
You may not even realize it, but there is more than likely a community garden in your local area. If there is not one, you can work on starting one. This is a great way to help you get used to growing plants and caring for animals, while working within a community. During the process of experimenting with a community garden, you will develop a much better understanding of just how agriculture works. At the same time, you will be able to gather all sorts of ideas that you can use for your own farm, in the future. Community gardens are also a nice way to help you launch your farming business. You can use the garden as a way to grow food, bring people together locally and cultivate community relationships.
Celebrate At County Fairs
There are a lot of communities all across the country that celebrate agriculture as well as local goods and events, through county fairs. You can get involved with your local county fair by volunteering, visiting the barns, talking with the participants and much more. This is a great outlet for submitting some of your own animals or crops, as you get started with your hobby farm as well. When you enjoy local county fairs, you are opening yourself up to a wonderful world where you can embrace anything and everything that has to do with local community harvest celebrations.
Start Your Garden Or Small Scale Farm
Anyone can start in on their own farm journey by simply starting a garden and getting together a plan for small-scale farming. Whether you are putting together a garden on a small parcel of community land, a garden on a rooftop in the city, a window box that you fill with herbs or edible plants and more, there are all sorts of ways that you can take small-scale farming and make it into something that is fully satisfying and productive.
If you don't happen to have any access to land in your immediate area, you should never get discouraged. Gardens and even mini-farms are popping up in areas all over the world, including areas in cities and suburbs that would otherwise seem too small for such a venture. All you have to have is a container and some soil, then add your seeds, water and love, and you are going to be well on your way to growing your own crops. There are even some urban farmers that have been working towards keeping their own bees and chickens in the city, and a number of farms are even going mobile, with veggies planted in the backs of trucks. If you are willing to get your hands dirty and you do all that you can to learn about farming, you are going to see that there are all sorts of opportunities on the horizon for you to add to the harvest in the future.
IS YOUR SMALL-SCALE FARM A HOBBY OR A BUSINESS?
The number of part time farm operations that are sprouting up all over the country is certainly on the rise, with the number of full time farm operations seeming to be on the decline. This noticeable rise in part time farming ventures help to maintain the overall working landscape, while contributing to the agricultural economy. Additionally, these small farms work to support the businesses that sell agricultural services and supplies, while educating consumers about the true importance of agriculture across the country.
With the increase in all of these part time farming ventures, the question is still the same. Do you have a farm that is more of a hobby farm, or is it one that you are going to be able to use for a "for profit" business?
The reason why there needs to be a distinct answer as to whether or not you have a hobby farm or a business is the simple fact that there are laws in place that govern deductions, when it comes to farming profits. A hobby farmer that is producing their own goods and produce will pay lower taxes, while one who is seeking a profit from their goods will have to file their taxes accordingly.
- Do you have a farm business that is operated in a business-like way?
- Do you run a farm operation that has complete and accurate books?
- Does your hobby farm have a clear business plan?
You need to make the decision as to whether or not your farm is going to be for profit, or if you are going to keep it just for fun. Simply floating between the worlds of profit and pleasure can end up being a bit expensive when it comes to tax time, if you let the IRS determine whether or not your business is a hobby. You could end up losing out on a lot of the deductions on any particular return. Teetering on the edge when it comes to deciding upon the seriousness of your farm operation will simply lead to a lot of frustration and to the underreporting of your expenses.
When you want to take your hobby farm to the next level, you will want to bring in a tax professional to work on your management team so that you can educate them on your farm operation and your goals for the business.
Professional Farm Business Checklist:
- Keep all of your personal and business expenses separate at all times
- Set up a quality and complete bookkeeping system
- Always maintain accurate records, including all of your paperwork and receipts throughout the year
- Make sure that your record keeping is a regular activity, or hire someone to take on the task of bookkeeping
- Set forth financial goals for your farm business and always make sure that you work to track the progress
- Pick out the best possible organizational structure to suit your needs
- Employ qualified professionals to advise you, when it comes to any sort of legal or tax issues regarding your farm business
WHAT CAN YOU DO WITH YOUR SMALL FARM?
Quite often, when people purchase a small farm, they simply are looking for someone to tell them what they are able to do with it. While this might be a strange notion, it isn't always easy to answer the question of what you can do with your hobby farm. Once landowners begin to make important decisions having to do with the manner in which they are going to use their property, they may not realize that there can be a lot of complications involved. Before making such a decision as to what you are going to do with your small farm, you will need to take into consideration a lot of the major factors that will interact with and influence one another.
- What are your goals for your farm?
- What are the physical resources of your farm?
- How about your skills as well as your family resources?
- What type of farm enterprise are you looking for and what crops will you want to see produced?
The type of soil that you have on your farm property will impact the types of crops that you can and cannot grow, which will in turn have a dramatic impact on the level of gross income that your farm may be able to enjoy. Additionally, your skills as a farmer, whether working for pleasure or profit, and the way that you work with consumers can have an influence on the marketing techniques that you may need to employ.
Small farms or hobby farms are really just like any other small business venture. You will have to put in a long-term commitment, long hours and a lot of stamina. At the same time, like many of the successful small businesses of today, hobby farms will assume quite a bit of risk-taking along with the entrepreneurial spirit.
Goals For Your Hobby Farm
The owners of small farms can differ from one another when it comes to both aspirations as well as resources. There are a lot of hobby farmers that will be interested in having a few animals and growing certain vegetables and fruits, while providing a good quality lifestyle in a rural setting for their family. There are others who will manage a small farm on an intensive level to help produce either a supplemental or a total family income.
The goals that you put forth for your small-scale farm have to be realistic. And you have to consider the feelings of your family members, your finances, the farm or even the business related talents that you and your other family members have or don't have, and much more. As you get started on planning out your hobby farm goals, you will want to consider the following questions:
- Do you seem to view your farm as a hobby and a way for you to achieve a decent quality of life for your family?
- Are you just hoping to keep your agricultural tax deferral?
- Is there a hope that the farm is going to be able to produce a partial or whole income for your family?
Small Farms As A Hobby
It goes without saying that rural areas are very attractive places for families to grow and thrive. A lot of satisfaction can come out of experiencing the farm life without the pressures that come along with trying to turn a profit. Here, you will find that the money from your farm will be able to support your farming activities. Additionally, there are a lot of smaller farm families that want to replace a portion of their purchased food with items that they can raise on their own, through their own farm. This is something that can be both surprisingly easy and extremely satisfying.
Believe it or not, as little as two acres of land can provide you with a platform that will make about a year's worth of fruits, berries, vegetables, meat and even some opportunities to make cash sales. Add on another two acres that includes a well managed wood lot, and you can even work to heat your home during the winter months. The more that you look into ways that you can turn your hobby farm into a great resource for your family, the more you are going to find that the benefits and advantages are truly endless.
Farm Income - Supplemental Or Family Support?
When you are working on a hobby farm to produce either supplemental or family income, either is going to be a serious business. You should approach this venture with thorough planning, along with realistic expectations. You should take these questions into consideration before moving forward:
- Do you have realistic expectations about the type of income that you can expect from your small-scale farm?
- Who is going to be doing all of the work?
- Do you happen to have or are you able to obtain the business skills that you may need to ensure that the farm is going to be able to succeed?
On some smaller parcels, the land prices will be disconnected from the actual value of the land when you are going to be using it as a farm. Many of the small parcels will sell for real estate market value, rather than what any conventional farmer would consider to be a fair price for a farm. Some hobby farmers will go with the purchase of a parcel of land; while others will simply rent a small parcel that they can use to produce their goods for a period of time. It is all a matter of trying to figure out which avenue is going to be the most convenient and cost efficient for you, moving forward.
Depending on the type of land that you are looking to buy, it is going to be challenging to expect a parcel to be able to pay for itself without a long-term plan. Not only that, but you are going to have a number of factors that will play into the overall price, especially if there is a house on the land, sheds, barns and other out-buildings that will need to be maintained.
With a good bit of intelligence and a good level of persistence, you should find it possible to make some decent money from your small-scale farm. A lot of smaller farms in your region right now are producing amazing crops and are learning new ways of marketing. There is always room for potential, growth and new ways to take your hobby farm even further.
The profitability of any farming enterprise, whether large or small, is going to be very difficult to predict. It is important that you work to identify just what you mean or expect from the term profitability. Does it mean that you are simply hoping to stay in the black when producing a specific crop? Will it mean that you are going to be providing a small supplemental income or that you are hoping to attain a full family income?
Small farms have the ability to provide all of the above and much more. When you have incredible resources and the skills to back it up, you are going to have quite a hobby farming journey in front of you, with plenty to keep learning along the way.
PHYSICAL RESOURCES OF A FARM
It is easy to see that no two farms are created equal and as a matter of fact, many farms will vary quite a bit in terms of the types of crops that they are able to grow. Any farm's capability to grow certain crops will be related to the physical resources of the land, including soils, climate and the access to proper water irrigation. These physical resources may have a good bit of restriction on the crops that you are able to grow. And you could find that some areas of the country are going to give you limited or unlimited options. A successful farm will be able to match crop options, and make the most out of the land that is available for you to work on.
Soil Types
The soil on your farm is going to be a complex mixture of sand, clay and silt. The abundance of each of these components will have a great impact on the type of soil that you have on your own land, and they will then have an influence on the crop options that will be available to you. The better the soil you have on your land, the more options that you have and vice versa. However, you can work to improve poor soils, simply by working on drainage and adding components to the soil to make it richer.
Clay is known for being a challenging type of soil and it is difficult to work with in terms of drainage. Such soils that are heavy in clay are going to be difficult to cultivate early in the spring, and you could find issues that will come about with root disease in a number of crops. Because of this, many farmers dealing with clay soils have to install drain tiles to help facilitate proper drainage.
Soils that are very sandy will be known to drain excessively and will bring about their own distinct problems. However, it is going to be better to have soil that is sandy and drains well, than to have soil that does not drain well at all. There are soil maps available in your local area that will help you to determine the type of soil that you may be working with on your parcel. These maps are produced after soil surveys are done and will tell you all of the strengths or weaknesses of the soil that you are working with.
When looking at the soil types, you will find that it will be better to work with five full acres of terrific soil, than it will be to work with fifty or a hundred acres of soil that is only mediocre in nature. Given that there are some crops that are only going to give you the most economically when you are able to produce them on a larger scale, it is going to be best that you carefully weigh your options. For example, growing grains on anything less than a few hundred acres may not be worth the time, money or the effort.
In addition to the soil, you have to look at the location of your land and what it may do for you in terms of marketing your goods. Do you have decent road access on your land? The land that you have for your farm should be appealing and able to bring in the public, if you are looking to bring in customers to your hobby farm. If you are in need of a truck or some sort of transport for animals or goods, is your farmland going to be able to handle it with ease?
Water - Irrigation
You simply cannot have a hobby farm without the right amount of water for your animals, plants and more. If you are going with anything larger than a simple garden parcel, you will need to look into what you can do for crop irrigation and a good water system. Nurseries for plants will be heavy users of water and irrigation systems, just as vegetable operations. If you are producing grapes, garlic, Christmas trees, and certain berries, you may not have a need for irrigation.
You will find that there will also be concerns regarding the quality of water; in addition to making sure that there is an ample supply. The quality of your water will be based upon the pH, salt content or even the types of minerals that are found within the water. These will have an impact on the suitability for irrigation. When you are purchasing your parcel of land for hobby farming or you are looking into your options for irrigation, it is going to be a good idea to have a full water analysis done.
Climate
Also extremely important to farming will be the climate and microclimate of the area that you live in. The climate generally refers to the patterns of temperatures along with the rainfall that takes place throughout the seasons. The climate zone that you have will limit the crops that you are able to grow, including fruits and vegetables. This is a limitation that will be based upon the ability of the plant to survive in the area, given any temperature extremes and so on. For a lot of crops, considerations will include rainfall amounts as well as patterns, sun exposure, air movement and even frost, as they are all going to be critical to the success of the vegetation.
The crops that may already be growing in your area can work as a good indicator of the limitations of the climate. If a crop that you are thinking about is not normally grown in your local area, there could be some good reasons for it. However, this is not going to mean that you cannot work on a good way to grow the crop in your area. It will simply mean that you are going to need to do your research, and work hard to get the crop up and running despite climate challenges.
Always be aware and alert when it comes to any of the microclimate variations that are present on your property. A microclimate is the type of weather pattern that is found in a small area. Does it seem as though your property is warmer than a lot of the farms in your surrounding area? Do you seem to get more rainfall or is there a poor flow of air on your parcel?
Microclimate will be related to how the water will drain and collect on your land, as well as the natural features that are present such as smaller bodies of water, the temperatures and more. If you have a farm that is known for having early frosts, late frosts or no frosts at all and it differs from the neighboring farm, this is all microclimate related. There are some instances where a microclimate will make it possible for you to grow a crop that would not normally be able to be grown in your area. On the flip side, you could find that it will be impossible for you to be able to grow the crops that you are hoping for, which other farmers in your area are able to produce.
YOUR FARM ENTERPRISE AND CROPS
The crops that you will be able to grow, along with any of the other services or processing that you will be able to offer from your farm, will be the products of your farm enterprise. Choosing the right production technique, the types of crops that you are going to grow and the marketing channels that you need, will take some good planning and thought.
Production Techniques - Right now, there are several great farming methods that people are using to produce farm crops and goods. The top three most widely used techniques on small-scale or hobby farms include:
1. Conventional - This is a technique that utilizes synthetic fertilizers and pesticides, and will depend on mechanization for many of the farm practices.
2. Organic - This integrates farming practices, uses organic fertilizers and pest controls, and works to rely mostly on labor with only low levels of mechanized farming for most of the practices on the premises.
3. Sustainable - Maybe the true hybrid of the other two methods mentioned; sustainable techniques work to minimize the synthetic fertilizers and pesticides that are used, while decreasing the use and consumption of fossil fuels.
The type of farming method that you choose will have a great influence on the costs that will come along with building and then operating your farm. Additionally, the method will also have a lot to do with the income that you can enjoy from the products that you grow, and the way in which you can market the products when all are harvested or processed.
Traditional or Specialty Crops - The crops that are the easiest to grow are going to be those that have a long history of production in your local area. Using traditional crops or standard options will allow you to enjoy some level of security in knowing what you are going to be able to reap. There will be little or no surprises besides the weather that comes your way. If you are looking to grow a crop that is known for having been grown in areas around your farm for quite some time, you will also have equipment, custom and trained operators, and free advice all around you. Some of these familiar products will often include corn, goats, tomatoes, carrots, sheep and more.
Taking the time and having the initiative to grow a diverse crop is also going to spread the risk that you will have changes in the environment or market price, at any given time. There is always going to be a risk when you are thinking of growing too many crops, especially if you are choosing those that are going to require a variety of skills and different types of equipment.
Once you start to look at the different types of nontraditional or specialty crops that are available today, you are going to have to spend a lot of time on research. These could be crops that are new to your area, or even on the cutting edge across the nation. Such crops may include items like exotic livestock, new varieties of traditional fruits and vegetables, hybrids, medicinal herbs and more. Newer crops may have little or limited production information available, so you will need to be able to roll with the punches in terms of hands-on learning that may be ahead of you.
Some of the best hobby farmers are able to grow their specialty crops as a way to give them tremendous profits. However, there is a level of marketing that is also necessary if you are going to be successful with your specialty crop choices. You have to decide where you are going to sell your product, if you are going to sell your product on a large scale and how you can keep your product growing in a manner that is going to give you the most return.
Marketing - Small-scale farmers will sometimes be at a disadvantage, when it comes to trying to compete against some of the large-scale farmers that are out there in the wholesale market. Large farms will usually have the ability to push out a much higher volume of products over a longer period, at a lower cost to the buyer in the end. Therefore, in order to be successful as a hobby farmer, you are going to have to find ways to market your products directly to the consumers, in one of the following ways:
- Farmer's markets, both locally and in surrounding areas
- Roadside stands
- Subscription farming or CSAs, Community Supported Agriculture
- Public institutions and local restaurants
- Websites
- Other creative marketing techniques
There are a lot of exciting examples that you will be able to study when it comes to hobby farms, which are profitable. They produce high quality fruits and vegetables, nursery stock, specialty livestock, medicinal herbs, culinary herbs, tree fruits and more. Quite often, there will be an added value to the enterprise, such as making jam from the fruit that you produce or cheeses from the animal milk that you harvest. Some small farms will even go a step further by turning their property into a bed and breakfast, or even a petting zoo or an educational outlet for young children. That will also add profits.
PUTTING YOUR FAMILY SKILLS TO WORK
Whether or not your hobby farm enterprise fits in well with the goals and abilities of your family will have a major impact on the overall success that you will have. There are some families that will work to take on the task of a small-scale farm simply to add to their financial stability. They may begin to discover down the line that they really do not enjoy the animals that they have or the crops that they are growing, and the work will then become daunting. Here are some helpful things that you may want to take into consideration:
Always Use Your Strengths
- What is it that you love to do? Growing a specific crop that you like or working with animals that you enjoy will help you to be able to get through some of the tougher times, and it will also help you in your marketing efforts. Never force yourself into any sort of farming simply because of outside factors. If you have a real love for working with livestock, you may not be happy just working with berries and bees.
- What is it that you know how to do best? Farming is a process that is going to take a variety of important skills. You will have to be able to deal with bookkeeping, management, mechanical aspects and much more. You will have to involve yourself, as well as other family members, in the farming tasks that are going to be best suited for their skill-set.
- Is there something that you do well? Lots of people will have a variety of abilities that can be beneficial for a hobby farm. Some have a knack for growing bedding plants, some may be able to do well with fruit trees, and others may be wonderful with livestock and helping to raise young animals.
Pay Attention To How Your Family Wants To Live
- Take any crop that you are considering and think about the schedule that is going to work best. Is this a schedule that will fit in well with your family schedule? Does your family have a time when you like to take vacations during the months where the crops still have to be tended to? How important are the holidays to you, and do they coincide with the crops you are thinking of planting? A great example is if you are thinking of planting Christmas trees, you need to understand how this crop may interfere with your winter holiday plans.
- What months out of the year are you expecting to be busy on your farm, and how many hours are you looking to work? It can be easy to work long hours on the farm, so you will need to think of any social activities that you like to enjoy with your family that may be impacted.
- Are you comfortable with risks on varying levels? Do you seem to thrive on risk or is it something that scares you? Some crops will pose little financial risk but also promise little income. There are others that will have the potential for great profits, yet they will have a higher level of risk involved.
- Direct marketing of your goods will usually involve lots of contact with people. Do you or does anyone in your family like to deal with people?
- Is your entire family excited about farming and ready to get started? Moving to an area that is rural can lead to family stress, if you have members of the family that are more accustomed to an urban lifestyle.
Other Factors You Can Consider
Farming Community - A high quality, active farming community can promote innovation, group learning and cooperation. The best suppliers of farm equipment, information and services will be readily available when there is a good network of farmers in any given area. At the same time, isolated farmers can join in on commodity organizations, and work to take other steps to help improve upon their marketing and technical skills in order to be successful.
Isolation - If you happen to be isolated, you may need to carry larger supply inventories and more parts, while also dealing with an inability to contract quite as easily when it comes to custom farm work. In this case, you will have to be able to have the equipment and the know-how to take on all of the work by yourself. This will usually mean a much higher investment in time and capital, and a lot of skill. You may also have difficulty when trying to attract buyers for your crops or products.
Labor Pool - When you are working with horticultural crops that are perishable, you need to be able to harvest them and market them as quickly as possible. This will mean having access to productive and reliable labor so that you are able to be successful in your endeavors. Are you comfortable when it comes to working with and/or managing the labor force that your hire? Will you be able to hire additional employees, and are you able to pay for your labor prior to being paid for your crops?
Market Access - Your ability to access the appropriate markets for your crops will be a major factor for any small farmer. You want to be able to get the most for your produce so that you can survive to put out the next crops in your farming cycle.
HOBBY FARM SAFETY CHECKLIST
All you have to do is take a look at some of the reports that have been put together on agriculture and farming, and you are going to see that this is an industry that happens to be one of the most dangerous in the United States. Because there are a number of deaths that take place each year on farms of all different sizes, it is important that you learn what you can do to make sure that your surroundings are as safe as they can possibly be. This is a brief checklist that will help you as a valuable starting place, and you can use it to help eliminate some of the most obvious risks. From there, you can dive deeper into your hobby farm to make sure that everything is taken care of and that safety is of the utmost importance.
TRACTORS
It probably goes without saying that tractor accidents make up the highest percentage of farm injuries and fatalities, with rollovers making up quite a few of the adult deaths that are recorded. The use of protective equipment, including guards and seat belts, has the ability to prevent nearly half of the farm machinery injuries that may take place otherwise.
- Is your tractor properly fitted with a rollover protective structure, or ROPS, along with seat belts?
- Do you always wear your seatbelt when you are riding on your tractor equipment?
- Are the guards that you have on your tractor secured in place and functioning properly?
- Do you make sure that the steps as well as the operator's platform are completely clear of any debris or slippery substances?
- Are there proper flashers and lights that are fully operational?
- Do you have tires that are inflated to the right level along with hydraulics that are completely free of leaks?
- When it comes to fire extinguishers and first aid kits, do you have them? Are they stowed away in a place on the tractor in a compartment that is easy to reach and not blocked in any way?
- Do you make sure that everyone that is going to be operating your tractor equipment is properly trained? Do you also ensure that everyone who will be sharing in the operations are physically as well as mentally fit? Are they free of any stress and fatigue, and not under the influence of any sort of drugs or alcohol?
- Is the equipment always properly shut down, where you remove the key and then wait for all of the moving parts to stop completely before you dismount, without any exceptions?
- Do you always make sure that any bystanders, especially children, are away from your tractor and any of your other machinery?
- Are there always extra precautions taken if you are going to be offering any sort of rides on your tractors or farm machinery? It is important that you realize that falls from machinery, tractors, pickup truck beds and hay racks actually account for a lot of injuries on farms of all sizes each year.
Livestock
Did you know that one out of every five farm related injuries that happen to people under the age of 20 is usually animal related? Most of the time, these injuries will involve cattle or horses, and adults are often injured as well. It is always going to be important that you are able to maintain safe housing for your animals, as well as adequate handling and hauling facilities. Along with that, you also need to have a good understanding of the mannerisms of each species, in order to fully manage them in a safe manner.
- Are all of your pens, stalls and fences secure enough and tall enough to contain all of the animals that you are keeping in them?
- Whenever you enter an area that contains males, such as stallions, bulls, bucks, boars or rams, is there a clear map that you can use for an escape route? Do any of the children that are going to be around these male animals know that they should never interact with these animals, even if they seem to be friendly, unless there is an adult around to help them?
- Do you make sure that everyone who is going to be on your farm knows that the females who have new offspring can attack someone to try to protect their young, even if they are otherwise known for being friendly? This is also another instance where it would be best to plan an escape route, should there be a situation that comes about.
- Do your children, as well as other children who visit the farm, understand how important it is to ask an adult to help them when they would like to approach an animal that they want to interact with, instead of trying to do it on their own?
- Are you sure that everyone who is going to be handling your livestock realizes the importance of wearing attire that is protective in nature, such as gloves and shoes that have non-slip soles, when they are around animals?
- If you have medications for your livestock, do you make sure that they remain locked away and in the original containers, only to be used by designated adults?
Children On The Farm
An unbelievable number of kids are either injured or killed in accidents that are farm related every single year. In order to make sure that children are always going to be safe when they are visiting or living near or on your hobby farm, there are a lot of safety precautions that you should be keeping in mind. These are just a few of the questions that you can ask yourself to make sure kids are safe:
- Do you make sure that there is a properly maintained play area that is safe for children that may be too young to participate in some of the barn activities? Oftentimes, the age range for such a play area will be around the age of 9 or younger.
- Do you take the steps to properly supervise youngsters that are of intermediate age, from around 10 to 14, so that you can coach them in the tasks that are appropriate for their ages, as well as their ability levels?
- Do you make sure that you are able to teach any of the children that are going to be on your farm all of the safety protocols? Do you quiz them regularly? Do they seem to fully understand what you are teaching them and why it is so important?
Emergency Situations
Most farms, by nature, are located quite a distance from hospitals or emergency personnel who would be the first responders in case of any sort of medical emergency. Because of this, it is going to be very important for everyone living on or visiting your farm to know just what should be done should there be any sort of farm related injury that takes place.
- Are you fully trained and certified in CPR and first aid procedures? Do you make sure that everyone in your family or personnel who works on your farm knows how to administer the basics in an emergency?
- Do you have emergency phone numbers and contact information listed clearly near landline phones that are in your house or the barn? Do you make sure that these numbers are also programmed into the cell phones of anyone who is on or working at the farm?
- Is there plenty of well-stocked first aid kits in your house, farm vehicles or your barn?
- Do all of the children who live on your farm or visit your farm regularly know what to do in the case of an emergency? Do they know how to remain calm, who to call and where to look for the first aid supplies?
If you are not doing any of these things on your hobby farm when it comes to safety, it is going to be paramount that you start in on it as soon as possible. When it comes to farming, you absolutely have to make sure that everyone is going to be as safe as possible at all times, no matter what their age is.
IN CONCLUSION
There are a lot of things that go into having your own hobby farm, many of which you may already know. Overall, you are going to find that this will be a very rewarding and memorable experience for everyone involved. This final list is just a glimpse at some of the things that you can expect from putting together your own small-scale farm, and how farmers just like you add to the community:
- Produce quality crops for small, yet well paying markets.
- Develop a passion for the land around you and for what you do.
- Understand the learning curve of a new enterprise, allowing yourself to take on new skills to help you thrive and make the most out of your new small-scale farm.
- Invest in both quality soils as well as good water, for top growing potential.
- Saving money while working on developing crops for your family and the community around you.
- Matching workloads to the time that your family is able to invest.
- Making a diverse source of earnings, while getting a good bit of income throughout the year when you are able to market your goods.
- Employing people from your local area to work on your farm or to help you out, when you make your way to county fairs or local farmer's markets with your goods.
Small farms can really be a wonderful way to launch your family into an incredible business opportunity. Hobby farms have been said to be an incubator for creativity and skills, giving off new ways to think about the resources that we are using and working to be sustainable in our daily lives. There are many larger enterprises that got their start from very modest beginnings, and many of them were hobby farmers. Knowing that there can be significant risk involved, you are going to set yourself up into a wonderful platform that can grow into an amazing farm for you, your family and your community.
No matter how you decide to grow or market your small-scale, hobby farm, you will find that this is going to be an experience that will be truly rewarding and memorable. It is simply a matter of picking out the crops or animals that you would like to grow, and you can dive in from there. There is nothing to lose in the beginning, as you can simply start again and make your farm into something incredible and beneficial for everyone around you.
&nbsp
---