Build Your First Website - Newbies Guide To Gaining A Presence Online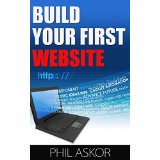 1. Why Build a Website?
The Internet certainly has changed the way that we look at things. It wasn't all that many years ago that the Internet was just in its infancy and very few people knew what a website was, let alone had their own website where they could post information, pictures and other data. Today, however, everybody wants a piece of their own Internet real estate and they want their website to look fantastic as well.
Although it is true that people want websites for a variety of reasons, it can really be broken down into two different groups. You have individuals who want to have a website to spread a message, or perhaps to simply discuss their daily lives or follow a hobby. You also have businesses who want to build a website in order to drive traffic to it and to make sales. In either case, the basic options are going to be the same; although they may differ in some ways. We will discuss both similarities and differences in this book.
Is It Difficult to Build a Website?
Some people may feel that it is difficult to build a website, but that is typically because they have never built one before. If you are ready to build your first website, you can be rest assured that it is not going to be overly difficult, provided you are at least a little bit technically minded. Even if you don't know your way around the computer or you don't fully understand what a website is, you can still use this information to get up and running in a relatively short amount of time.
At one time, it was necessary for you to know everything about coding a website, and you often had to do so by hand. As we will discuss in Chapter 4 of this book, it really isn't necessary for you to know any code in order to have a professional looking website. There are many options that are available, from what you see is what you get (WYSWYG) editors, to WordPress blogs which make it possible for you to upload a website easily. In fact, once you understand how easy it is, you may find that you want more than one website for more than one message.
Off-Line Website to Online Website
In this book, you are also going to discover that building an off-line website is often a precursor to taking the information online. It is possible to build an entire website on your computer and then launch it all at one time. You will find, however, that there are benefits to maintaining your website for the long-term, and to adding content regularly, especially if you are interested in having people find your website and read it.
You want to make the most use of any software that is available. Regardless of whether it is graphics software that will help you to make your logo, or if it is a word processor so that you can type out your musings, having the right software is going to help to speed up the process. Fortunately, much of the software that you need to build and maintain a high quality website will cost you exactly $0. That's right, it's free.
It's a Matter of Popularity
After you learn how to build your first website, you are going to learn how to promote it. It doesn't matter if you are building a personal website or one that is looking for business prospects; you want people to be able to find it. Fortunately, there are numerous ways for this to occur, from social media outlets to search engine optimization, and even paid advertising, if you want fast traffic that is of high quality.
You will learn that the Internet is a big popularity contest. The more people that like your website and follow it, the more likely it is going to be that you will find success. If it is your desire to make your website popular, be sure that you read the information in this book so that you can take advantage of what is available and avoid the problems that could make your website fall off the face of the earth altogether.
Building a website does not need to be difficult and in fact, a little research and some elbow grease can have you up and running within just a few hours. Take the time to read all of the information in this book, as it can help you through every phase of the process. Once you recognize how easy it is for you to build a website, you may wonder what took you so long to get started.
2. Giving Your New Website a Name
Before you get your new website started, it's important for you to name it. Just like naming a child, naming your website can help give it personality, thus you should choose the name carefully. In this chapter, we are not only going to discuss how you can permanently name your website, but we are also going to discuss the benefits of doing so.
The way that you name a website is by purchasing a domain name through a registrar such as godaddy.com or namecheap.com. The most popular option is to purchase a .com website; although it is also possible to purchase a website that ends with .org or.net or another extension. Choosing a website that ends with .com is the most obvious choice, because it is universally recognized.
A domain name is going to cost you approximately $11 USD per year, depending upon the extension and where you purchase it. There are also a wide variety of options that are available when you purchase your domain name, including purchasing hosting and a variety of other add-ons at the same time. Although you will need to use the registrar to purchase the domain, hosting and anything else that they offer is not necessary. The primary responsibility of the registrar is to sell you a domain name and to point it in the right direction.
If you are running a hobby website and you're not interested in spending a few dollars a year in order to have your own domain name, there are other options that are available. Services such as wordpress.com or blogger.com can be used for free, and you can be up and running in a very short amount of time with no cost to you, other than connecting to the Internet.
Although it is possible to use those free services, there are reasons why you may want to avoid doing so. First of all, you don't have complete control over your information. If the service decides that it doesn't like your information, or if it no longer maintains the website, your website is going to be lost completely. Additionally, these websites donít present a professional appearance, so it is certainly not something that you would want to choose for your business. In this book, we are discussing purchasing a domain name, building a website and having professional hosting. Don't worry it's not expensive.
The Benefits of Choosing a Domain Name
Obviously, having a domain name helps you to have an identity and it makes your website unique. There are many other benefits, however, which are typically not considered by individuals who are building their first website. At this point, we are going to review some of those benefits. Take a look down through the benefits and continue to read through this book, because it will continue to make more sense as you learn more about building a website.
Professional Appearance - Along with making your website unique, a domain name also gives you a professional appearance. This is something that is of particular interest to those who are running a business, but even if you have a hobby website, having your own domain name can be quite beneficial. When you have a domain, it lets people know that you are serious about your website and it helps you to develop an audience.
Easy Visits - After you have your website online, it is likely that you're going to tell everyone about it. It is much easier for you to tell them about your domain name, particularly if you keep it as simplified as possible. Additionally, having a catchy domain name that is related to the subject is going to allow them to remember it so that they can check it out at a later time.
More Repeat Visits - It is not only beneficial to have first-time visitors; you also want to have those who are going to visit your website regularly. If you update your website, which we do recommend, having a repeat audience can really help to build your numbers. Regardless of whether it is a hobby or a business, repeat visitors are certainly the way to go.
Helps You Get Noticed - In the chapter that deals with search engine optimization (SEO), you will learn that the domain name does have something to do with getting found in the search engines. When you are found through search engines, such as Google, Yahoo or Bing, the traffic that is coming to your website is targeted because they are interested in what you are offering or have to say. There is nothing quite like the influx of free traffic from the search engines, and choosing your domain name is one step in the process.
Real Email Address - Although most people use a free service, such as Yahoo, Hotmail or Gmail, there is something to be said for having your own email address. Rather than having all of your email delivered to an email address from a free service, you can have a professional looking email address that includes your domain name. When you choose the right hosting service, it is even possible to have multiple email addresses for multiple purposes.
You Own It - Perhaps the biggest benefit of owning your own domain name is in the fact that you own it in the first place. Nobody is going to be able to deface it, add content to it or change it without your express permission. In today's information age, where information tends to get passed around quickly, it is certainly a benefit to control the information about you.
3. Your Website Needs a Home
Now that you have named your website with a unique domain name, it's time for you to choose a home for your new website. This is done through a hosting service, where the files from your website will reside. A hosting service is connected to the Internet in such a way that it allows others to access the files so that they can view your website. What do you need to look for in a web host so that your new website will flourish?
The Basic Options
Although there are a wide variety of options that are available for websites, you want to choose one that has a control panel that is easy to use. cPanel is the most popular choice, although there are other control panels which are preferred by some individuals. cPanel is based on the Linux operating system. The other choice is to go with a Windows server, which is more expensive but necessary if you are going to be programing your website in the .NET language.
If you choose a cPanel host, it gives you a variety of options, including ease of access and some tools that will help you work with the backend of your service. This would include setting up new email addresses, checking your web statistics, and installing necessary software.
A cPanel host is also typically recommended because it comes with a service that is called Fantastico. This service can be found through the cPanel interface and allows you to automate many processes, including the installation of important programs. For example, you can set up your blog with just a few clicks of your mouse when you use Fantastico.
Time to Look beyond the Basics
It is also important to consider some of the other options that may be available through the host. For example, some hosts will offer unlimited amounts of disk space and bandwidth, while others may limit you in some way or other. If you have a website that is going to be large, or if you plan on getting mass traffic, you should choose an unlimited host so that you don't have to move when your website grows.
Most web hosting companies are going to offer you a number of different options. You can typically view the options that are available side-by-side, which makes it easy for you to make your choice. Some of the options that may be included are your FTP manager (for uploading files), your file manager, how many mailboxes are available, and what type of support they offer.
What Type of Server Do You Need?
Another factor that needs to be considered is the type of server that you purchase. Most people who are just getting started use a shared server, which is the more affordable option. Shared servers often have multiple websites included, and at times you may be sharing a single machine with thousands of other users. Although it is inexpensive, it can harm your performance in some cases if you do not use a quality hosting company.
On the other end of the spectrum is a dedicated server. This is a real powerhouse as it provides you with an entire machine that is dedicated to your website. Dedicated servers are expensive, but if you run a popular website, or if you need to ensure that your website is up and running without issue, the dedicated server is the choice that you would likely make.
At times, you may find that it is beneficial to fall somewhere in the middle of a shared server and a dedicated server. One option that may be available is a virtual private server, which is a single machine that is split between just a few people. It works like a dedicated server, in that you have plenty of system resources, but it is less expensive because you are sharing a single box with other users.
Most people who are just starting with building their first website are going to rent a shared server. It is an affordable option that can allow you to get your feet wet, so to speak. If you choose a hosting company that offers virtual private servers and dedicated servers as well, you may be able to move up when your website gains in popularity. Be sure to look into this in advance to avoid any additional charges if you need to make a move.
4. Learning Code - Is It Necessary?
When you first start building your website, you will likely want to take advantage of the tools that are available which will help you to do so easily. These tools can include visual editors, known as What You See Is What You Get (WSYWYG) editors. WordPress is another option, which limits the amount of design work that is necessary, and allows you to focus on the content of your website.
As a result of these tools being available, many people are now skipping the process of learning any of the code that goes into building websites. Although it certainly is possible for you to build websites without learning any code at all, it is not typically recommended that you do so. When you have a basic understanding of how to work with the code of a website, you can overcome some difficulties that you will likely face along the way.
The basic code for building a webpage is HTML, which stands for hypertext markup language. An HTML page, which is a basic webpage, is essentially a text document. Any HTML webpage can be edited in Notepad or any other text editor, along with your WYSWYG editor. Although we are not going to discuss the specifics of code in this book, it is important to understand that it is not difficult to learn. Spending a few hours on a weekend studying HTML on a website can really open your eyes to the language that you are now using.
What If You Don't Want to Write HTML?
Some people have no desire to code their own webpages and there certainly is nothing wrong with that. As we stated, there are plenty of tools that allow you to build a webpage without ever having to work with the code directly. Increasing your knowledge of your new hobby or work-related task, however, would make it necessary for you to learn the basics. Although you may never work with the code directly, understanding the basics can allow you to understand what is going on behind the scenes.
Another argument for not learning HTML is that it is becoming obsolete. Although it certainly is true that some other form of programming language may eventually replace HTML, it is still one of the most common options for web design today. At some point or another, HTML may be replaced with XML, but it is likely that HTML will be supported for many years to come.
Other Web Languages to Consider
HTML is not the only option for designing webpages. In essence, it is a static form of design and webpages coded in HTML are often two-dimensional in nature. There are plenty of other languages that are in use today, including some that are rather popular for webpages, such as PHP.
PHP is common for use in many webpages and is also part of the standard language that is used in WordPress templates. It allows you to go beyond the standard design, and helps you to make webpage come alive in a number of ways. Admittedly, PHP is more difficult to understand, but as with HTML, it can really benefit you if you understand the basics.
In conclusion, although it is beneficial to learn HTML, PHP and other web design code, it is not a necessity. Understanding it will prove beneficial to you, however, as you continue to design webpages in whatever editor you choose. Setting aside the time to learn the code so that you can effectively read it is never going to be lost time.
5. WordPress - An Easy Option
Although you have multiple options available for designing your first website, one that should not be overlooked is WordPress. WordPress is a blog and it is the most popular and versatile blogging platform that is in existence today. It is free to use, both for private and for business use, and allows you to focus on the content of your website, because it can be set up and administered easily.
The set up process for WordPress is fairly straightforward, and there is documentation available when you download the software. It may not be necessary for you to work directly with the software, however, in order to install it properly. If you chose a cPanel host, as we discussed earlier, you will be able to install WordPress with a few clicks using Fantastico. There are also other hosting services and control panels that allow for the easy install of WordPress as well.
Logging into Your New Website
Once you have WordPress established on your hosting service, it is time to log into the administration area. You will likely have a link directly to the admin panel, which can be found at yourdomain.com/wp-admin/. Be sure to bookmark the login page, as you will need to use it frequently.
The beauty of WordPress is that you don't need to do anything to it in order to get started. Once you have WordPress installed, you can begin adding content using the basic options that are chosen for you when the blog was installed. From inside of the administration panel, it is also possible for you to change any of the options in order to make it work according to your needs and desires.
You might feel somewhat overwhelmed at first with the number of options that are available to you. Many of the options are never going to be changed, especially if you're going to use a standard blog that is not overly modified. If you do happen to make a change that is not to your liking, you can easily change it back to the original format. Take some time to explore the administration panel and look at the options that are available. It will take some time to get familiar with it, but will be well worth the time that you spend.
Adding Content to WordPress
Content is added to WordPress either as a post or a page. A page tends to be a more important part of your website, such as your contact page or the page that is about you or your company. A post, on the other hand, is an informative page that will be posted to your blog in a recognizable format. Although there are no significant differences between the ways that pages and posts are displayed, the majority of the information that you provide will be in the form of a post.
Once you have posted information to your blog, there is no need for you to feel as if it can never be changed. Along with adding new information in a new post, you can also go back into your old posts at any time to edit them. You have complete control over the content of your blog, so go ahead and blog away.
What Theme do you want?
The default theme that is installed with WordPress can be used right out-of-the-box. There may be times, however, when you want a different look or feel to your website. Installing a theme and selecting it as the default inside of your administration panel can accomplish this.
There are literally thousands of free themes that are available, as well as plenty of paid themes, which tend to be more robust. For most personal blogs, a free theme can be downloaded to your computer and uploaded to your web host via FTP. It will be put in the theme folder, which is found inside of the wp-content folder. Once you have uploaded the new theme, it will be instantly accessible from inside of the administration panel.
The beauty of WordPress is that you never need to go back to change your content just because you have installed a new theme. Any of your existing content will work into the new theme seamlessly, and new content will continue to be added seamlessly as well. You may even want to have multiple themes available and change from time to time according to your needs.
Making Your Blog Do Tricks
Another feature of WordPress blogs are plug-ins. These are small programs that can be downloaded from the WordPress.org website plug-in directory and then uploaded to your plug-in directory on your blog. Once they are uploaded to your web host, they are instantly available from inside of the administration panel.
There are plug-ins which can allow you to administer your blog in almost any way you can possibly imagine. Some plug-ins will help you to establish your blog properly for top listings in the search engines, while others will work with specific factors, such as changing the way that your users can comment, or perhaps automatically backing up your blog on a periodic basis.
The majority of the plug-ins that are available on the WordPress.org website are free. Most of them are benign and can easily be added to your blog so that you can instantly enjoy the benefits that they make available. The beauty of WordPress plug-ins is that they can easily be uninstalled as well. All you need to do is disable them from within the administration panel and their effect is instantly removed from your blog.
Continue to Learn WordPress
Many businesses have used WordPress with great success. In addition, it is a blogging platform that can be used for individuals who simply want to post information to their users on a periodic basis.
Because of the diversity that WordPress has to offer, and the many different options that are available through themes, plug-ins and various edits, it is impossible to review them all in the scope of this book. It would be wise for you to continue to learn WordPress and to study what it has to offer. Every day, you will be able to learn something new about the platform and incorporate it into your blog, so that both you and your readers will benefit.
6. Using a Website Template
Although the benefit of using WordPress and starting your own blog should not be ignored, it is not an option that all new webmasters are going to want to consider. In some cases, you will want to have more control of your website and how it looks and feels to the visitor. If you are interested in designing a static website and adding content to it, one of the best things that you can do is to use a template. Here is a basic guide that will help you to choose a template and to make full use of it.
Choosing Your Template
There are plenty of websites available online which house hundreds, if not thousands, of different templates. In many cases, these templates are categorized in a way that will make it easy to find one that suits your need in your specific niche. Do not choose a template too quickly. It may be that you find one that seems perfect for your website, but with a little bit of digging, you may find one that is slightly better or even much better. It is best if you start with the template that you are going to use for the long-term.
Although many of the templates that are available online are free, there are also some paid options that should not be overlooked. Some of the paid options are very affordable and can make the choice an easy one, even for personal websites. If you are operating a business online, you may want to consider stepping it up to a more robust template. Of course, you are going to spend more for a template that provides you with multiple options, but it may allow you to better display your website in a way that benefits both you and the visitor.
Having a Template Designed
It is also possible to have a template designed according to your specific needs. Most people are going to have something about the template designed professionally, such as a logo, but they may not have considered having the entire template designed from scratch. You can outsource template design on a number of outsourcing websites, and the prices are very reasonable. It is also likely that you will find an up-and-coming Webmaster in your local area that can provide you with excellent service at an affordable price.
Why Choose a Static website?
There are a number of benefits to choosing a static website over choosing a dynamic website, such as a blog. First of all, a static website typically gives you more options when it comes to the design and feel that is available for your visitors. When you use a blog, there are plenty of design options available, but you may be somewhat limited unless you have extensive modifications made to the template. With a static website, you can have the template designed exactly as you want, and simply plug your content into it.
Use Your Website Editor
When you have a WordPress blog, you are essentially going to be publishing information and allowing the blog to take care of the design. When you use static webpages, however, you are going to be pulling up a copy of the template on your local computer, plugging in the content, and then uploading the file to the Internet.
This does not need to be a difficult process because most editors give you a visual of the webpage as you are making the changes. It is fairly straightforward, and it gives you the opportunity to work with the webpage to get it exactly as you would like it to look, before you uploaded to the server.
7. Setting up Your Local Website
As was discussed earlier, there are certain benefits to having a static website; although it is not the only option that is available. In this chapter, we are going to discuss one of those specific benefits that go along with having a static website: being able to set the website up in advance. Rather than adding content on-the-fly and having to make modifications with the information already available online, it is possible for you to modify your static webpage on your home computer before ever uploading it to the Internet.
In order for you to take full advantage of the static website that you are building, you will need to set up a local website which is going to mirror what is available online. This can be difficult, unless you are using a proper HTML editor that has the option of setting up the local website for you. If you set it up directly and modify the pages independently of such a program, you may find that some of the links are broken once it is online. That is because the file structure that exists on your local computer is likely to be different than what is available on your server.
A Straightforward Process
If you are using an HTML editor, such as Dreamweaver or Kompozer, the act of setting up your local website is going to be very straightforward. It is necessary for you to look into the documentation associated with your editor however, because there are variations in how you do it. In any case, it will set the file structure in a way which allows you to navigate the various files of the website and to ensure that the linking structure is established properly as well.
It is also possible to code the links manually to ensure that they are not going to be broken when the website is moved to the Internet. This can be done by adding a / before each of the links in the HTML. If the webpages are in a separate directory, be sure to include the directory name after the /. These links will work fine when they are online, but they may not work properly on your local computer.
Measure Twice Cut Once
The axiom measure twice, cut once, is typically applied to carpentry, but it can also easily be applied to establishing your website. It is always best if you check out everything in advance before you uploaded to the Internet, because any problems with your website are going to make it appear unprofessional to your visitors.
Most editors allow you to check everything on the website, including the possibility of orphaned pages. This can be a real problem, especially if you upload the webpage without catching it first. An orphaned page is a webpage that does not exist anywhere in the linking structure. Without a link to the webpage from another webpage, nobody will be able to find it, including the search engines.
Ease of Adding Pages
As we will discuss multiple times throughout this book, it is beneficial to continue to add content to your webpage regularly. Most people who use blogs find it easy to do so, but if you have a static website, it may not be as easy. Having everything established on your computer in advance can help to simplify the process and ensure that any new pages are included in the link structure.
In the next chapter, we are going to discuss moving your local website to your server. Once you do so, your new website will be available to the world.
8. Putting It All Online
Now that you've established your website on your local computer, it's time to upload it so you can share it with the world. This is not a difficult process, but it is one that must be understood properly in order for your website to function and to be visible. Understanding how to upload your files properly will also make the process of updating your website periodically much easier as well.
The easiest and most common way for you to upload files to your Web server is through a process known as FTP, which stands for file transfer protocol. You will need a program that will allow you to connect to your Web server through FTP so that the files can be uploaded.
Although there are some FTP programs that are going to cost you money, the majority of them are free. In addition, there may be an FTP option available through your HTML editor, which will make it easy for you to keep your files updated regularly.
Entering Your Credentials
The FTP program is going to need some information that will allow you to connect to your Web server. It will need your username and password, along with the FTP server information as well. Typically, the FTP server is your domain name, but some web hosts will make you include FTP in your domain name, in this format, ftp.yourdomain.com. You'll need to check with your host if you're having a difficulty connecting through your FTP server.
Once you have entered your credentials and connected to the server, you will likely be looking at a split screen. On one side of the screen is going to be the local files for your website, as well as for the rest of your computer if you browse to it. On the other side of the screen is going to be a file structure for your web server. In some cases, you may be put directly into the folder of your web server where the website files are uploaded. If that is the case, you can upload your files directly into that folder, but otherwise, you'll need to navigate to the right folder.
Use Caution When Using FTP
I can't stress enough the need to be cautious when you are using FTP to transfer your files to the server. Try not to get ahead of yourself, because you can end up causing problems. For example, you may have multiple index files in various folders on the server. If you were to download those files into the wrong folder on your local computer, you might overwrite one that is needed. You may end up uploading the wrong file to the wrong place, and it could prove disastrous to the look and feel of your website.
It is always best if you leave any warning boxes enabled to remind you to check before uploading or downloading files. It only takes one careless move to completely wipe out a website. Of course, it is also recommended that you backup your information regularly to avoid these potential problems as well.
9. Making Your Website Grow
Through the use of website templates and software, such as WYSWYG editors and WordPress, it is possible to have a professional looking website from the very start. Even though that is the case, you are likely to want to see your website grow in a variety of ways. Here are some of the ways that you can see growth with your website so that you can continue to enjoy the benefits of owning it for the long term.
One of the primary ways that your website will need to grow is in the content that is available. It can be difficult to continually provide the necessary content, especially when it comes to writing material regularly. Coming up with new and interesting subjects for your website can eventually become drudgery, but there are some things that you can do which will make it easier and more productive.
Be Better - Be the Best
The first thing that you should do is to evaluate the websites that rank in the top 10 on Google for the subject that you are writing. The idea is that you not only want to be better than what is being offered on those websites, you want to be the best one that is out there. When you create compelling content such as this, it is easier for you to get to the top of the search engines, which will result in more visitors to your website.
This method is sometimes referred to as the skyscraper method. The idea behind this method is that you want to be the biggest skyscraper on the skyline. Your website is the one that should stand out in the minds of those who are looking in your direction. If it is, it will compel people to talk about what you are saying, regardless of whether they are saying it online or off-line.
Admittedly, coming up with this content can be difficult, but it does not need to be a daily task. In fact, if you are adding content to your website several times per month, that is typically sufficient to keep your readers active and to keep the search engines visiting to index your site regularly as well.
Hiring Others to Write Your Content
Although this strategy is not one that is popular among hobby websites, it is commonly used among business websites. If you have difficulty writing your own content, there are writers available that can take care of the process for you. Hiring a quality writer will provide you with the content that is necessary to keep your website up and running.
One of the difficulties that many people face in hiring writers for their website is that they fall into the trap of inexpensive content. Although it certainly is possible for you to find articles for your website for a dollar or two, that doesn't necessarily mean that they are going to be worthy of your attention. Typically, individuals who are offshore write them and their first language is not English. It is better if you spend a few extra dollars per article to get something that is quality in order to avoid this problem.
Guest Writers
One other option that is available for growing your website is to have a guest writer provide the content for you. This is becoming more and more popular online, because it allows people to get exposure on other websites, but also benefits those websites as well.
It is important that you screen your guest writers carefully to ensure that the quality of their content is up to your standards. It is also going to be necessary for you to provide a link to their website on the webpage as well. This can either be done from within the article, or you can provide a biography box at the bottom of the article that contains the link. You should discuss this with the guest writer in advance.
Vary Your Content
Finally, it is not always necessary for you to provide an article as the content for your website. Varying the type of content that you put on your website can help to break things up and to make things more interesting for your visitors. From time to time, you may want to post a video, or perhaps a series of pictures that tells a story. These are very popular and provide an easy way for people to pass information along via social media.
10. If You Build It, Will They Come?
Most new webmasters are under the assumption that once they build a website, it is just a matter of sitting back and allowing the traffic to roll in. Although you may get some passive traffic from writing great content and posting it online, you might be disappointed with your visitor numbers if that is the only effort that you make.
Attracting Visitors to Your Website
The most important thing for you to do if you want to have new visitors to your website and continue to attract those visitors regularly, is to be proactive in working on your website. In the previous chapter, we discussed making your website grow by means of adding additional content regularly. As we will discuss in the following chapters, it is also necessary for you to be proactive in getting the word out about your website in a variety of ways.
The following chapters are going to focus on many of the online efforts that you can make which will provide you with additional traffic. You can also focus some of your efforts on the off-line world, as it can easily translate to additional traffic as well. The amount of effort (or money) that you put into your advertising efforts will typically be directly related to what you are getting out of it.
Start Slow - Finish Big
You also need to be realistic as to the amount of traffic that is going to be possible from the very start. Typically, your website is going to be found by a few individuals through social media, the search engines, or advertising at first. If your content is compelling enough, however, those individuals will continue to return and will bring along others with them.
As your website continues to grow in popularity, avoid the temptation to take shortcuts. There are unscrupulous methods that can help your traffic grow quickly, but typically they are short-lived. Protect your website as if it is a piece of property that you own. Don't do anything to "enhance" the website or to attract new traffic without first knowing that it is legitimate and will not cause harmful repercussions in the long run.
Taking Advantage of the Traffic
You also want to ensure that the traffic which is coming to your website is being provided with information that will benefit both the visitor and you. They are looking for content, either to be entertained, or to be informed. You, on the other hand, are looking for something as well.
If you have a business website, there are a variety of opportunities available which will allow you to monetize the website successfully. These include posting ads on your website through services such as AdSense, or finding a similar offer through a CPA (cost per action) network.
Even a personal website can be monetized, and it can help to dispel some of the costs of owning the website. If your website is popular, you may even be able to put some money in your pocket as well.
The most popular choice for monetizing a personal website is affiliate marketing. Affiliate marketing networks, such as Commission Junction or Clickbank, provide you with thousands of choices for monetizing your website successfully. As long as you pick a compelling offer that would be of direct interest to those who visit your website, it is likely that from time to time you will make a sale.
It is possible to increase your profits by weaving the affiliate links into your content naturally. Rather than trying to hard sell somebody through a banner ad or a "click here" link, you can add the link inside of the content where it fits logically. People recognize links naturally and they will readily click on one when it is available.
11. Making Friends with Other Websites
Many people who build their first website have a tendency to covet the information that is provided, and to keep it free and clear from the influence of other webmasters. Although it certainly is possible for you to go it on your own in such a way, you should not overlook the possibility of making friends with other websites as well.
There are a number of ways that you can utilize the power of other websites to provide targeted traffic to your own. In this chapter, we are going to look at some of those methods so that you can begin employing them from the very start. In fact, once you have a few articles available on your website to give it a professional look, you will find that it is not overly difficult to get started.
Form Joint Ventures - This is a popular choice for business websites, but it is also possible for personal websites to take advantage of joint ventures as well. A joint venture is a relationship that is formed between two or more individuals (or websites) that will provide benefits to everyone that is involved. Those benefits can either be in the way of exchanging traffic through introductions, or can be in the way of earning a commission.
Guest Posting - If you want free traffic to your website, you can look for websites on similar subjects and provide a guest post. You can either write the content for the guest post yourself, or hire a high quality writer who will produce compelling content that can be posted elsewhere. In exchange for the article that you are providing for their website, you will get a link back to your website. This will produce direct traffic from those who click on the link, and it will also provide you with benefits for your search engine optimization efforts.
List Exchange -If you have a list of customers that you contact regularly through email (which is recommended), you can use that list to your advantage. It is a common practice for webmasters to collect the contact information from those who visit their website. It helps to provide an additional point of contact and increases the possibility for repeat visitors. You can use that list to your advantage by offering to swap emails with other list owners. You will want to ensure that their offer is legitimate and of high quality, as is yours. It is a great way to introduce your website to many people at once. It is also possible to rent these lists, but you should only choose a legitimate service when doing so.
Ask for the Link - If you have followed our recommendation for providing the best quality content that is available on any subject, it is also possible for you to ask for a direct link. Find noncompeting websites that are within your niche that are also discussing the same subject. You can email those webmasters and let them know about the content that you have on your website. If you ask for a link, at times they will give it to you, which will provide you with numerous benefits.
If you are going to ask for a link directly, it is important that you are cautious not to be overly zealous in your efforts. Take the time to review their website and write the website owner personalized emails, rather than simply sending multiple emails to a number of different webmasters, which may appear to be spam.
12. Gaining Traffic from the Search Engines
There is nothing quite like getting free traffic to your website, and the search engines can send you that traffic if you do things properly. The process that is used for getting your website listed well in the search engines is known as search engine optimization (SEO). In recent years, SEO has become big business, and it certainly is possible for you to pay thousands of dollars per month to have it done properly. That being said, it is also possible for you to do a lot of the optimization of your website yourself so that you can enjoy the benefit without the cost.
The Basics of Search Engine Optimization
There are two different parts of your content that are going to need to be optimized. Content that exists on your website, and information that points toward your website from other sites.
On-Site Optimization - The information that is on your website needs to be optimized properly. In recent algorithm updates by the search engines, more emphasis has been put on quality content rather than on the individual words that are on your page. Although that is the case, it is still important for you to write about subjects and to use words that you will target in the search engines.
There are various tools available which can help you to research the keywords that people are using in the search engines. Targeting keywords that are not as competitive makes it more likely that you will be found during a search. If you add new content to your website and focus on the off-site optimization as well, it is likely that you will rank for a wide variety of keywords that relate to your subject.
Off-Site Optimization - Optimizing your website properly also requires that you focus your efforts on other websites as well. Linking from other websites to your website has always been an important part of having it ranked properly. Just as on-site optimization has changed recently because of algorithm updates, there is also new focus on off-site optimization as well.
If you are doing any additional research on search engine optimization, it is important that you only look to the authorities on the subject. You should also make sure that any information you are researching is up-to-date. The newest algorithm changes in the search engines make it necessary for you to focus on quality links rather than the number of links that are available. A single link from a quality website is going to matter more than a dozen links from low-quality websites. In fact, low-quality links may even cause your search engine rankings to drop significantly.
The Need for Fresh Content
Throughout this book, the need for fresh content on your website has been stressed. Up until this point, it was basically recommended because you want to provide new content for your human visitors, but it is also necessary to provide the content for the search engines as well.
The search engines will send out automated programs, known as robots or spiders, that will index your content, sort it, and decide where it will be listed. There is some evidence to support the fact that adding new content to your website regularly will improve your search engine rankings. In addition, it provides new pages (and the words they contain) which will provide you with additional opportunities to get traffic to your website.
Hiring a Company for SEO
Webmasters who operate a personal website will likely want to take care of the optimization on their own. If you have a business website, however, you may want to hire the optimization out to a third-party company so that you can focus on other parts of your business.
There are legitimate companies that can help you to optimize your website properly so that your traffic will grow steadily over time. There are also companies that will choose shortcuts and unscrupulous tactics, which may work for the short term but will end up coming back to haunt you at some time in the future.
If you are going to hire a company to provide SEO services, it is vitally important that you choose one that is legitimate and has a good reputation. They should provide you with more than an email contact, and you should be able to pick up the phone and contact them directly.
Before you contact the SEO company, do some research to determine the best methods for optimization that exist according to the current algorithm. When you talk to the individual at the search engine optimization company, they should be up to speed on the current algorithm and they should be able to update you if there have been new changes to the algorithms. Their focus should be on providing you with quality SEO, not a fast fix that will end up causing you problems in the long run.
How much can you expect to spend for SEO? That really depends on what you need. If you are a small business and are simply trying to gain some passive customers from your website, you will probably spend $100 or more every month for such a service. It is possible, however, for you to spend thousands of dollars every month if you want to take your website to the next level and rank for some of the more difficult keywords.
Search engine optimization is an ongoing task. Once you begin to see benefits from your effort, it is important for you to continue to optimize your website and the incoming links. If you stop the optimization process, it will seem as if your website has become stagnant to the search engines. More than likely, you will see a drop in your search engine rankings and will have to start from square one at that point. If you continue your optimization efforts, it is likely that your traffic will continue to grow, month after month.
13. Making Your Website Social
How many times a day do you check Facebook or see what has been posted on Twitter? If you are like most people, social media has become ingrained in your life and you are constantly looking for new information on your computer, tablet or smartphone.
Although the average user looks at social media as being for personal use, it is possible to use it for the benefit of your new website as well. As a matter of fact, the amount of traffic that is available through social media can often rival or even surpass what is possible through the search engines. In addition, the quality of the traffic can be fantastic, and can result in future visits, sales and recommendations.
Using the social media outlets properly can go a long way in helping you to ensure that the traffic coming your way continues to grow. Here are some of the top social networks along with information on how to use them for maximum benefit.
Facebook - The most popular social network, with over 1 billion active users, Facebook has the ability to send you a flood of traffic. Of course, it is important for you to use the social network properly so that you can target your audience and ensure that you keep things on the up and up. Doing so will allow you to get the most benefit from Facebook and to continue to use it for the long term.
There are two basic options for promoting your website on Facebook, free or paid. If you want to promote it for free, you can create a Facebook page that is specific to your website, and post to it regularly. It is then possible to have people follow your website on Facebook, so that they will see anything that you post related to it.
The other option for promoting your website on Facebook is to pay for advertising. At this point, advertising on Facebook is still relatively inexpensive, but it is important for you to study up on the subject before you jump in with both feet. Perhaps one of the best options that can be done on a budget is to promote a post. For a minimum of $5, you can get additional exposure and the possibility for new visitors.
Caution must be exercised when you use Facebook so that you do not alienate those who are following you. Imagine if somebody loaded your feed with nothing but one advertisement after another. How long would you continue to follow them and pay attention to what they were saying?
Use Facebook as a way to connect with other people and to form relationships. By getting involved in the conversation and posting helpful (or enjoyable) information to Facebook, it will make it acceptable when you do post something that promotes your website from time to time.
Twitter - The popularity of Twitter has been gaining recently and it is possible for you to gain significant traffic from this network as well. Starting a twitter account and having people follow you is a great way for you to get clicks and traffic to your website. Of course, you want to ensure that you are a good neighbor in this social network as well, posting useful information most of the time and on occasion, a link to your website.
Twitter has also opened an advertising network that allows you to target a specific audience. Twitter advertising is still relatively inexpensive and it can prove to be beneficial in promoting your website if it is used properly.
YouTube - This is not a true social network but it is similar. On YouTube, you can share information in the form of a video and people can comment on it. YouTube is owned by Google and aside from Google, it is the most searched website on the Internet. By posting videos to YouTube, it is possible to gain traffic to your YouTube channel, along with traffic to your website.
When you post a YouTube video, make sure that it is worthy of being passed on to other individuals. Try to make the video either funny or informative and be sure to pay close attention to the quality. YouTube has the potential to send you a massive amount of traffic, so treat it with care.
Cross Promote - Using any of these social networks can send you significant traffic. When you use the networks together to promote your website and other social network accounts, it can cause a snowball effect that will send additional traffic your way.
You can also look for other social networks, such as LinkedIn (specific for businesses) or Google+. You can use these on occasion to further promote your website and for additional traffic. Just be cautious not to spread yourself too thin. By focusing on the top social networks, it is likely that you will see more response to your efforts.
14. Advertising Your Website
The majority of the information in this book has been about building a website and promoting it with minimal cost or even for free. In this chapter, we are going to discuss advertising your website. When you advertise, it is possible to drive instant traffic to your website that is highly targeted with visitors who are likely to take action.
A number of advertising networks are available, depending upon your needs. Although it is possible for you to consider CPM networks, banner advertising or establishing an agreement with websites in your niche, we are going to focus on the top forms of advertising, which have the potential to send you mass traffic.
Adwords - This advertising network is available through Google and it is one that has the potential to send you an almost unlimited amount of traffic. When you purchase advertising through Adwords, your ads are going to show up on the search engine alongside the organic listings, which are there due to search engine optimization.
Adwords works as a bidding system, and you will bid for each keyword where your ad will display. In order for you to be listed on the front page and enjoy the traffic that is possible, you will need to outbid any of your competition who are also trying for the same position. Depending on the audience that you are targeting and the keywords that you choose, you can end up paying anywhere from a few cents to a few dollars per click.
Facebook - Advertising on Facebook has become quite popular among marketers because it sends targeted traffic and is slightly less expensive than purchasing ads through Adwords. There are a number of options available for advertising on Facebook, and they are constantly revamping their system to make things work better.
You can purchase ads that will show alongside of the feed when people view Facebook, or you can pay more and have the ads show up directly as a suggested post in their feed. It is also possible to boost your posts by paying as little as five dollars per boost. You will need to have a Facebook page established for your website in order to boost a post, but having your own Facebook page has benefits all to itself.
Twitter - A relative newcomer to the advertising scene, Twitter has the ability to send you a considerable amount of traffic as well. Like Facebook and Adwords, you will be able to target your ads to a specific audience or interest group on the social network. You will then bid to have your ad show on the network and pay when people follow you, repost a tweet, or take another action, according to your settings.
&nbsp
---